---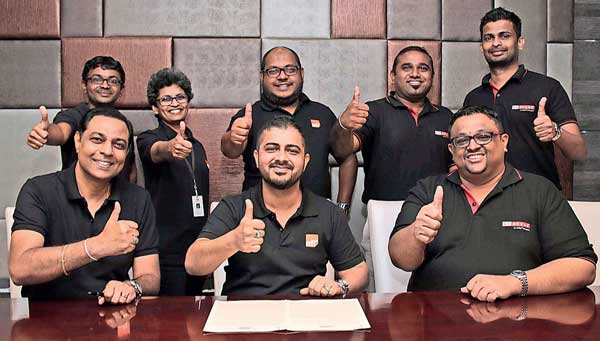 EFL Sri Lanka Managing Director Saif Yusoof (front centre) and GT Nexus Vice President Supplier Solutions Dastaquir Ismail (front right) along with EFL and GT Nexus teams at the signing
Logistics solutions provider Expolanka Freight (EFL) announced that the company was going live on the GT Nexus platform to bring enhanced visibility and collaborative opportunities to the supply chain. EFL joins the world's top 10 supply chain solutions providers and the first in the subcontinent in using a tier one cloud-based business network for global trade and supply chain management.

GT Nexus capabilities include end-to-end inventory and shipment visibility, purchase order management and origin management. The platform enables robust and flexible interchange of electronic data and integrates information with customers, carrier, truckers, brokers and customs via EDI connectivity in a web-based, real-time, 24/7 accessible system.

EFL is a leading logistics solutions provider in the region with operations in 18 countries and business in four continents. By connecting EFL's supply chain to GT Nexus, the company is joining the world's biggest cloud-based commerce network with 25,000 other businesses and 100,000 users worldwide.
With a single technology platform and fused financial and physical supply chains, GT Nexus will strengthen EFL's operations across the board, noted Managing Director Saif Yusoof.

"In global cargo movements, there are multiple stakeholders who work together to ensure that goods reach the destination yet the visibility across the supply chain is limited. With GT Nexus now, we will be able to give our customers that glass line view that enables them to know where their goods are at any given time. This will also help with planning as brands and buyers can manage disruptions and plan ahead for promotions and product launches."

The new platform will provide EFL and its customers a complete end-to-end supply chain monitoring system, covering events while from inventory on order through to final delivery and is line with the company's efforts to streamline solutions that are backed by best in class technologies.
Commenting on the partnership, GT Nexus Supplier Solutions Vice President Dastaquir Ismail said, "Operating on a cloud network will enable EFL to capture a single global view of suppliers, data and movement of goods in a central hub viewable across internal departments and external partners. "Every major ocean carrier is a member of the GT Nexus network and our partners and their clients benefit from deep levels of operational efficiency and business agility across the spectrum."