---

Sri Lanka's edible fish exporters are experiencing a boom following the resumption of shipments to Europe, and Emirates SkyCargo is playing a key role in helping them capitalise on this resurgence.
The freight division of the award-winning airline reports that it is currently transporting about 100 tons of edible fish a week from Colombo to markets in Europe and the USA, a noteworthy increase over export volumes that were prevailing before the implementation of the 15-month suspension of exports to Europe in 2015.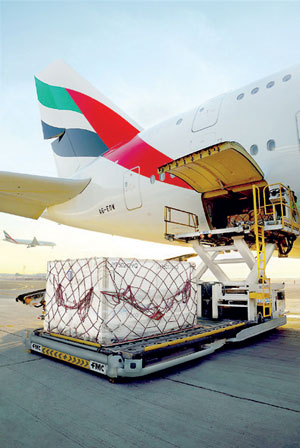 In the second half of 2016 alone, Emirates SkyCargo transported more than 2,400 tons of edible fish from Sri Lanka, double the volume it had transported in the corresponding six months of the previous year.

The cargo consisted of tuna in fresh, chilled and frozen forms, shrimp, prawns, crabs, lobster, fish maws, sea cucumbers, cuttlefish, squid and sprats to the UK, France, Italy, Japan, Netherlands and the USA.

The export of Sri Lankan fishery products to the European Union resumed in June 2016 and grew by 20 percent in the year that followed. European markets account for more than 60 percent of the country's fish exports, valued at approximately US$110 million, benefiting thousands of fishermen and their families.

"The support Emirates SkyCargo provides Sri Lanka's seafood export industry reflects our wider commitment to the national economy," said Emirates Sri Lanka & Maldives Cargo Manager Kapila Santhapriya.

"The many innovative facilities developed by Emirates SkyCargo for the transport of perishables including temperature-sensitive seafood combined with our four daily flights from Colombo to Dubai and our global destination network of over 155 cities across 84 countries have made Emirates SkyCargo the market leader and most trusted service provider for perishable cargo in the country."
Of particular relevance to edible fish exporters is Emirates Fresh – Emirates SkyCargo's suite of solutions that help maintain the freshness of perishables and fresh consumables during transportation. Emirates Fresh includes services such as prioritised ground handling as well as the use of the Emirates SkyFresh Ventilated Cool Dolly.