---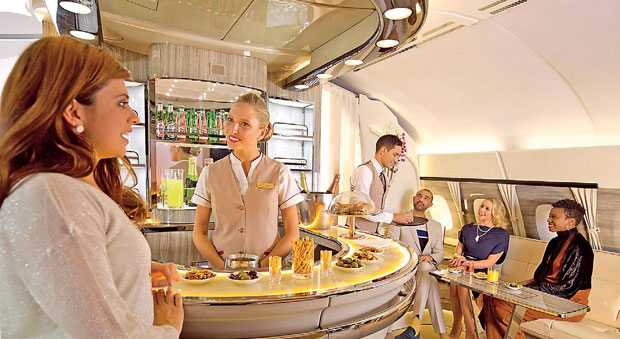 By Chamindra Wickramasinghe
From its majestic exterior to its elegant interior, I found Emirates A380 a fascination indeed and cruising on board its Business Class a testament to what's travelling in style and luxury in the sky. The inspirational travel experience was Emirates' offer as part of a FAM tour of Dubai, in line with the airliner's maiden and one-off Colombo voyage recently.

Although not until boarded, Emirates' signature aircraft's identity – Airbus A380-800 – was perceived, imprinted below the cockpit windows on the fuselage, while on the apron of Bandaranaike Airport, its outstanding stature as the world's largest passenger aircraft was instantaneously apparent, when the double-decker's upper deck was visible even above an ordinary aircraft's height.

Flight EK 655's 'my space' for the little over four-hour journey to the airline's hub, Dubai, was 15J, a window seat in the 76-seat upper deck Business Class, reached climbing a stylish flight of stairs. Quite softly lit, the premium cabin's ambience was so welcoming, serene but striking, retained by the mix of orange shaded sleek panel the windows were embed in and surfaces of similar shades integrated into the seats. The fresh floral arrangements on a cabin wall gave it a touch of nature.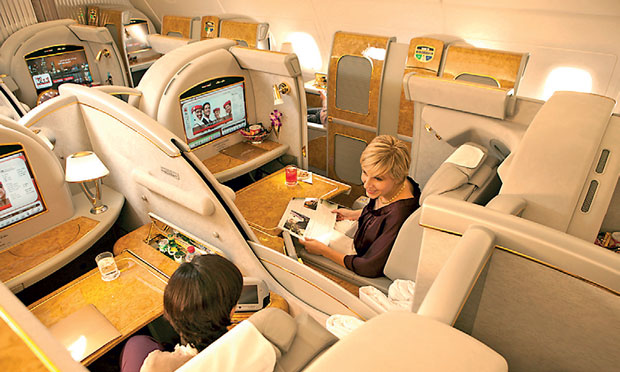 High-tech comforts
The comfy seat, state-of-the-art, had associate tech devices and a multitude of en suite amenities; I only wished it was a longer flight to benefit most offered.

It being night and embarked refreshed with a pre-departure beverage – a choice made between Champagne and fruit juice, hot scented towel and the crew serving more drinks and nuts after the aircraft was airborne, just press of buttons turned the lie-flat seat to a fully flat bed for perfect restful sleep, the soft pillow and duvet adding to greater comfort. If it had been day, the automated window blinds could have blocked the sun in seconds.

Right before my eyes was the large touch screen, I later learnt the specifics – a 20" HD LCD TV, welcoming to Emirates' famed in-flight entertainment system – ice (information communication entertainment), linked for control from the seat to both the tablet on the table top on the window side and another remote-controlled device. Featuring 'Into the Badlands Season 2', the screen informed of "over 2500 channels of great entertainment, over 300 TV channels, including 70 full seasons". All in need was time to spend.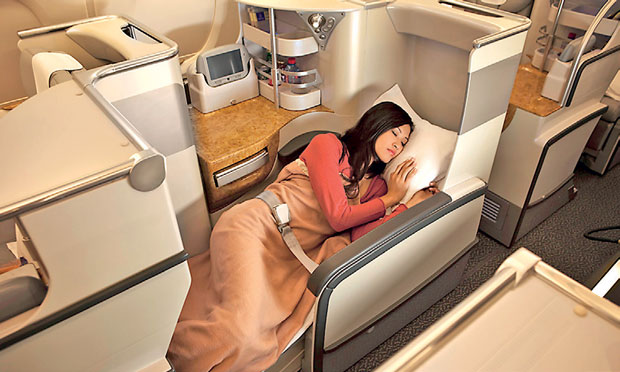 Exquisite fine dining
In the middle of the flight my dinner was respectfully served in white tableware with stainless steel cutlery, on a pure white clean tablecloth on the drawn-out food tray. The dinnerware had been bone china of Britain's Royal Doulton manufacture, the napery, linen and the serving dynamic cabin crew of mixed cultures – 19 from 17 countries on board on the day, was friendlily interacting.

It was exquisite fine dining – a blend of international and regional cuisines, selected from a six-course meal menu: for appetiser – Hariyali chicken roulade, served with red coleslaw and curry vinaigrette; for main course – Chicken piccata, served with steamed asparagus and gnocchi and cherry tomato sauce; garlic bread off the bread basket selection of naan, paratha, masala pav, rolls and Arabic bread; condiments – to pick from pappad, cucumber raita, yoghurt, mango chutney and thokku pickle and dessert – Opera cake that dates back to 1955, with layers of chocolate sponge and buttercream, topped with a gilded hazelnut. Finally was Belgium-founded Godiva chocolate treat – two pieces in a little red box.

Flying 40,000 feet above sea level, I was connected to Wi-Fi. Upon registering, I being personally assisted by a crew member, Emirates messaged: ''Thank you for choosing Emirates Internet ONAIR. You are now ready to start your Internet session. Your plan: Free 20 MB (Use within two hours).'' Throughout the flight, phone and data services were available at international roaming rates for just one appeal from Emirates – to set the phone to silent.

The 'Airshow' feature displaying live information on the progress of the flight, I deem valuable, for with interactive maps it updated on the screen the local and destination times, distance from departure and to the destination, altitude and temperature, even technicalities such as speed. Via satellite, the same screen helped keep tabs on BBC and Reuters live news, sport and business headlines and while taxing, it disseminated the on board safety measures in Arabic and English.

Privacy assured, the 'staggered' cabin seat arrangement, where a row of seats was placed along the widebody aircraft's windows and two in the middle, to move, none on board disturbed another, having direct isle access from every single seat. For the centre seat occupants, a movable panel added privacy.

Designed to facilitate the modern-day Business Class traveller, who integrates work with life, the seat area's greater personal space was equipped to be turned to a work station, making use of the large personal table, in-seat laptop charging points and stowage, USB ports installed and the light to work or read at rest. There were easy-to-reach coves to stow away our belongings, even for shoes.

Ultimate luxury
Beside the extensive selection of complimentary drinks served throughout the flight, including wine lists featuring exclusive red and white wines and ports, the conveniently located personal minibar had in store all through the flight complementary made in Australia Sunraysia mango juice drink, Perrier beer, Seven Up and Pepsi cans and a French Evian bottle of mineral water along with a glass.
The mood lighting creating a calming atmosphere, the A380 Onboard Lounge, situated at the rear of the Business Class, was another graceful place, where passengers unwound on the sofas placed, helping to the finest premium spirits, wines and delicious canapés plated.

Emirates Airbus A380 Business Class offering much of on board luxuries than the Economy Class that occupied the whole of deck below, the 'ultimate' luxury offering is reserved for its First Class, which we walked through, the private suites with remote-controlled doors and for its passengers' exclusive use, two shower spas and two fully-equipped bathrooms.

Emirates, the global connector of people and places, made experiences memorable and remember what more left to experience.