---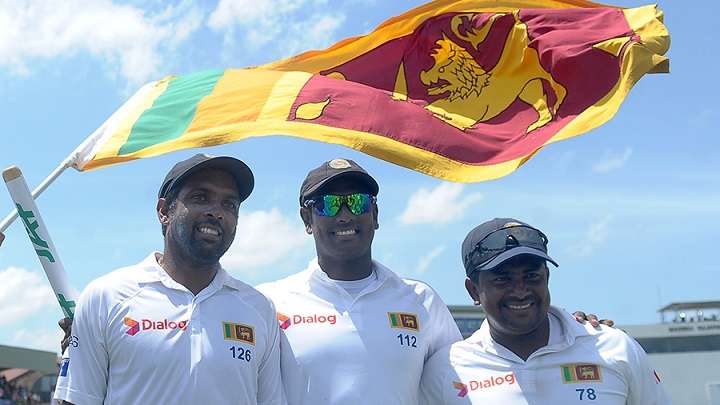 by Champika Fernando
After an undercover report exposed an alleged plot to fix the upcoming opening Test between Sri Lanka and England in November this year, Sri Lanka Cricket has decided to appoint an independent curator in future to work with local groundsmen.
According to a report in Qatar-based TV channel Al Jazeera, match fixers have been caught discussing plans to rig England's first Test on their tour of Sri Lanka.
An undercover journalist, posing as a businessman looking to place bets on the match, filmed an alleged match fixer and the groundsman of the stadium in Galle agreeing to help alter the outcome. The documentary will be aired by Al Jazeera later today.
"We will appoint an independent curator to prepare pitches in future," said Sri Lanka Cricket President Thilanga Sumathipala. "The local groundsmen will work under him".
After the report surfaced last morning, SLC CEO Ashley de Silva has requested the International Cricket Council–the world governing body for cricket–to investigate the allegations. The local board will not take any action but will assist ICC investigators in uncovering the truth.
"Sri Lanka Cricket (SLC) will extend its fullest cooperation to the International Cricket Council to investigate the latest allegations levelled via media reports, over 'match fixing'," a SLC statement said. "Mr. Ashley De Silva, CEO of Sri Lanka Cricket, is in contact with the CEO of the International Cricket Council Mr. David Richardson and the ICC Anti-Corruption Unit on the matter."
The board says it has zero tolerance towards corruption and will take immediate action against any person involved in the alleged incident, if found guilty.
"In the meantime, Sri Lanka Cricket is constantly engaged with the ICC and is following its guidelines on how to handle anti-corruption operations for the forthcoming tours in Sri Lanka," the statement said.
The report has implicated two Sri Lankans –a curator and a former first class cricketer–and two Indians but involves no current players.
According to reports, the undercover journalist made use of hidden cameras to unveil how the alleged fix was arranged and the pitch doctored. The reports show match-fixer Robin Morris, a former professional cricketer from Mumbai; Dubai-based Indian businessman Gaurav Rajkumar; the Galle stadium assistant manager, Tharanga Indika; and Tharindu Mendis, a former Sri Lanka first class player-turned-coach plotting the fix.
ICC have already launched an investigation.
"The ICC is aware of an investigation into corruption in cricket by a news organisation and as you would expect we will take the contents of the programme and any allegations it may make very seriously," a statement on its website says."We have already launched an investigation working with anti-corruption colleagues from Member countries based on the limited information we have received. We have made repeated requests that all evidence and supporting materials relating to corruption in cricket is released immediately to enable us to undertake a full and comprehensive investigation.
According to the report, the matches played at Galle against Australia in 2016 and against India in 2017 were fixed. However, it could seem like Al Jazeera is trying to make a mountain of a molehill as it has been quite usual and accepted for the home team to fix the wicket to suit to their advantage.
It was well documented that Sri Lanka, with a very strong spin attack, were preparing a spin-wicket for the Australians who have historically struggled on spin-friendly Asian tracks; and a sporting wicket for the Indians who were a much stronger side than Sri Lanka in all departments.
Sri Lanka beat Australia by 229 runs inside three days after bowling tourists out for 106 and 183 on a turning track, their second victory in a 3-0 whitewash in the series.
For the Australia match, Indika says he made a pitch for bowlers: "In that five-day match, we prepared the wicket poorly without using a roller. In that way we made a spinning wicket."
The "bowling pitch" ensured that the game would not last for the full five days and so the game would not end in a draw.
Batsmen were out quickly and the match was over in less than two-and-a-half days.
In the other match in question, India thrashed Sri Lanka by 304 runs as Sri Lanka were restricted to 291 and 245. India scored a huge 600 in the first innings and added further 240 for the loss of three wickets giving Sri Lanka an improbable target of 550.
According to the video clip, the Assistant ground manager Indika appears to have told the undercover team that, for the India match at Galle, he made a pitch for batsmen: "India was set for a batting wicket."
"We pressed the wicket thoroughly with a roller and then we put water on it to make it even harder," he says in the documentary.
ICC last year launched an anti-corruption probed in Sri Lanka but are yet to release their findings.
SLC appoints committee to investigate

Meanwhile Sri Lanka Cricket today appointed a three-member committee comprising Mohan de Silva, Air Commodore Roshan Biyanwila and Channa Weerakkody to submit a report within three days, making recommendations on the existing protocols; applying to the management and staff of every venue and to implement safeguards to prevent occurrences of such incidents in the future.

The was pursuant to a directive by the Minister of Sports Faizser Musthapha. SLC will also complain to the Criminal Investigations Department against the persons who have been allegedly involved in "Pitch Fixing" as reported in the Al Jazeera documentary. Meanwhile they have decided to suspend with immediate effect the alleged individuals involved in the said incident against whom ICC is carrying out investigations.