---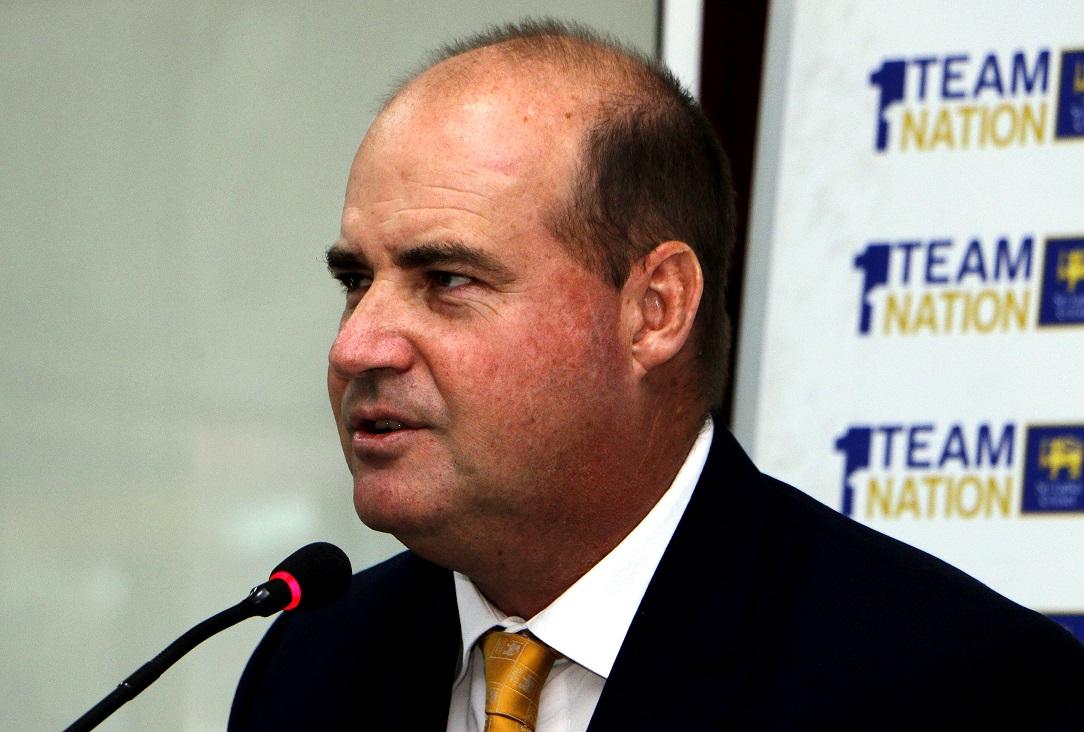 Sri Lanka Cricket (SLC) this week completely overhauled its coaching structure, bringing in key individuals to drive the country's ambitious plan to top the world across formats. Jerome Jayaratne, the man who helped Sri Lanka make significant strides in world cricket, unearthing and developing raw talent for many years as Head of Coaching, has returned as Chief Cricket Operations Officer. SLC has appointed Mickey Arthur as Consultant Coach of the National team. Arthur comes with an international CV packed with experience, having previously coached his native South Africa as well as Australia and Pakistan.
In an exclusive two days after starting his two-year stint that kicks off with the Pakistan Test series, Arthur says what lured him to coach the islanders, his plans for the team, the importance of adjusting to the local culture and the essential marriage between coach and captain for team's success.

Question: Sri Lanka has a reputation for its hire-and-fire policy. The last two head coaches had to leave midway through the contract. How big a concern was this when you were deciding on a role with the Sri Lankan side?
Answer: I don't know what the experience of other international coaches were. I'm prepared to come here and give it a shot because I believe in the talent of the players. Irrespective of what happens off the field, I know what I bring in to stimulate the players. And, hopefully, it will make them better players. I hope, one day, when I leave here, there will be a legacy of a couple of players having reached their full potential; a couple of players having become the best in the world in their fields. Sri Lanka has had some success at home but we need success on the road. If, at the end of the day, we achieve that, I'll go away from here very happy.
Question: So this hire-and-fire policy of coaches was not a major concern?
Answer: That's the world we live in. A lot of the time, coaches get a proper timeframe but unfortunately get sacked when performances aren't good. That's the nature of the job. You look at English football…soccer players coming in and out…so are coaches. I am backing myself to be able to come in and make a significant difference. And if I can make a significant difference and that helps players, then I'm very happy.
Question: What guarantee have you from your new employer that you will not face the fate of your predecessors?
Answer: We spoke. I mean, obviously, you got a contract. I back myself in order to be able to manage upwards, first and foremost, to get the board and the executives believing in the direction in which I want to take the team. I manage myself to be able to get the best out of the players, to make sure that the players know the direction they gain and understand what makes a high performance system, what makes a team based on excellence. And once we can get those players into those habits more often, it's going to give us a far better, better chance of having some success.
Question: What are the other concerns you had before finalizing your role with SLC?
Answer: To be honest, I didn't have many concerns. I felt that I had unfinished business in (my) international career. I've coached three international sides. I've felt that in every one of them, bar Australia, I made a significant impact and am backing myself to come here and make an impact. I am backing myself to make a significant difference to the fortunes of Sri Lankan cricket going forward.
Question: You're taking Sri Lanka on during a crisis that they have struggled to solve for nearly five years. While we have performed better in Test cricket, our record in limited-over cricket is below par. What are your plans to lift the standard of limited-over cricket?
Answer: Some would say it's a good time to come in and take over because, you know, you can only build and take the team forward, make the team do better. So I didn't have any concerns. I looked at the squad I've got to work with. I watched very closely the series in Pakistan, which showed huge amounts of talent and the depth of Sri Lankan cricket, which was good. I watched them play in Australia and there's clearly work to do in those conditions. But I was still excited about the potential, excited about the talent that's on offer and that's the draw card.
Question: What was your first impression of Sri Lankan cricket?
Answer: It's all been very good and very positive. I'm a realist. I know that things can change. But I've been very impressed by the structures that Ashley (de Silva) and Jerome (Jayaratne) have put in place at the high performance structure. I was impressed with the training today. I was impressed when I met the players for the first time. And they all impressed me. They're all fantastic human beings and very good cricketers. I am impressed with the city. It's got a good feel to it. So I'm very happy at the moment.
Question: You have had a successful career with ups and downs. How tough is present job when compared with when you started in the previous decade?
Answer: I started coaching South Africa when I was very young. Graeme (Smith) was a young captain and I was a young coach. And we got a team eventually of young players and sort of learnt along the way. But we became a very good side. And that taught me a huge amount about coaching.
Australia was tough at times. People forget that my win-loss ratio was still fairly good with Australia. It was the Test series in India that finally did it - you know, where we ended up losing badly. Other than that, results-wise we were quite good. That was a tough time. But I learned so much about myself and about coaching out of that time.
Then, Pakistan was wonderful. I loved coaching Pakistan for three years. It was a totally different culture. It was a group of young boys that came together and wanted to play for each other. I left Pakistan knowing that there was a legacy. We had made significant difference to how Pakistan viewed cricket. And I was very happy about that. I want to do the same now with Sri Lanka.

Question: Can you elaborate on the transformation you took South Africa through during your maiden international coaching assignment?
Answer: It was interesting. I'll never forget our first tour together to Australia in 2005-2006. We went with a lot of bravado, a lot of heart. We were going to come in, we were going to beat them. We were this young upstart South African team with some experienced players. (Shaun) Pollock was still there and a couple others and, obviously, (Jacques) Kallis and (Mark) Boucher. And we went there and we got smashed. We got beaten and beaten fairly badly. And we all made an effort.
Graeme and I in Perth during the one-day series, we sat and had a drink with the CEO of South African cricket at the time, Gerald Majola, who flew over to give us some support because we both felt like we didn't belong. And we sat and we mapped out. We mapped out a way forward, a sort of blueprint of where we wanted to be. We set ourselves realistic time frames.
It was 2006. We knew we were coming back to Australia in 2008-2009, and in the same year we had England in England, we had Bangladesh in Bangladesh and India in India. It was a massive tour for us away from home. And we set ourselves some realistic goals with the Test team to get to those tours and to become the first South African side since Unity to go to England and win.
We then wanted to be the first South African side to ever win in Australia. We made those our goals and everything was focused. Every decision we made went into particularly those two series because we were dominating at home. But away from home, we felt if we want to become number one in the world, we had a challenge. We won in England and we won in Australia, and that was like the culmination of so much work. And it went back to two-and-a-half years, almost two-and-three-quarter years to when we sat down and plotted a way for it. That's the kind of thing that I want to do with the Sri Lankan side.
Question: What is coaching and how significant is the role of a coach in the success of a team?
Answer: International coaching for me is creating an environment that allows the players to grow and get better. But excellence is non-negotiable. So everything we do at international level is geared to making them better players, and to making the system a far better system to be a part of.
The role played by the coach is massively significant. The coach creates environment. The coach is responsible for improving players technically, mentally and physically across three different disciplines. They are responsible for getting the team, setting goals and achieving them.
What the coach can't do is to go on the field. That's when the captain becomes crucial. So the coach-captain have got to buy into one philosophy. They've got to bind to one goal and together have to try and get that team going in the right direction.
We have (Dimuth) Karunaratne as Test and ODI captain and Malinga as T20 captain. Everything we do has got to be totally united. I take the responsibility of preparing the players and doing everything off the field with the captain's input. When we hand over the team to the captain, he becomes totally responsible for taking them out on the field and pulling the strings in terms of tactics. I give him that support from off the field.
Question: In that context, how important is the relationship between coach and captain?
Answer: It's like a marriage. It's vitally important. It's vitally important that you're on the same page on so many different things. It's vitally important that you have the same philosophy. And it's vitally important that, in terms of the direction you want to take the team, that you are totally on the same page. And that doesn't mean that you agree on everything. But those discussions are going to be open and honest between the two of you. Because if you can get that, you develop a real strong bond, you develop a real strong sense of trust and, if you have that, you can climb mountains.
Question: With the T20 World Cup around the corner, what do you think Sri Lanka must do to prepare?
Answer: I think the tour to India is now going to be quite, quite important. I know conditions are totally different. But it's going to be important in getting a base, a core group of 15 players, call it 18 players, that we can use over the remaining period of time. They have to be able to play in Australia. We have to, unfortunately, give them the preparation in the fixture that tells us what we can do. But consistency, role clarity and goal setting are going to be massive in that journey. So we've got eight months. We can't suddenly go out. Planning for that has got to start right now.
Question: Since the conditions are much different to those of Asia, do you think Sri Lanka should try and simulate them here? Have you spoken to SLC about what you need in terms of World Cup preparation?
Answer: We touched on it yesterday (Wednesday) in our high performance meeting. The key is going to try and simulate those conditions in our training. Whether the conditions are different or not, there's nothing like winning games to create that momentum. It creates the confidence in players. We've got to try and simulate those conditions outside in our training environment more. We play at home so much this year. So the confidence will be built up with, hopefully, winning games. But in our training, we've got to bear in mind and we've got to select players that can play in those conditions in Australia as well.
Question: What is your coaching philosophy?
Answer: I've always said it is to unreservedly create an environment of excellence. Excellence comes in so many different forms. It comes in fitness, in diets, in habits, Then, you've got the technical, mental and physical. That is so important. I use a term a lot. I like to give the players the roots to grow and the wings to fly. Their roots are centred around their technique. The wings, everybody's different. You've got to give them the freedom to develop within their characters and within their skills set. But your base, your roots, are embedded always in technique.
Question: What are the personal highlights of your career?
Answer: There's quite a lot. I'll never forget winning in England for the first time with South Africa. I'll never forget winning in Australia for the first time. Being the first South African side to win in both those countries. I'll never forget the 4-3-8 game when Australia got 434 and we managed to chase it down.
Then, undoubtedly, one of my highlights has been winning the Champions Trophy with Pakistan and then getting Pakistan to consistently win 11 Twenty20 series in a row to rise from where we were, at number eight or nine in the world, to number one and stay there for a significant period of time. Those are the highlights, obviously, with every team. South Africa, we got to number one in the world, and in all forms of cricket, while I was there. We will skip past Australia, although the records are quite good. Then with Pakistan, we touched on number one in Test cricket and won the Champions Trophy to become number one in Twenty20 cricket.
Question: What continues to drive and stimulate you?
Answer: Since I've left Pakistan, I've missed waking up, preparing a team, then going out and watching them perform on the field, take all that preparation into their performance. I miss that. I really miss that. Cricket for me is like a drug.
I want to be involved all the time in making players better and seeing them growing up to be better. For example, Babar Azam was a young boy when he started. Seeing him develop now into arguably one of the top four batsmen in world cricket in all forms gives me great satisfaction. I'm hoping I can do the same with some of these Sri Lankan boys.
Question: Which rings truer: does a coach look to bring a certain culture to the team or does a coach look to adapt himself to a team culture if it's a good one?
Answer: I think the key is actually to sit and have a look first. The Pakistan tour is going to be so important. So I can sit and have a look in and start building relationships with players, start understanding what makes those players tick.
Understanding (whether) they need a little cuddle and a little salt or do they need a tough chat. Everybody is different. I want to start finding out about all of them and then just adapting to the culture. It is always the key. I always thought, with Australia, I could come in and bring a culture of excellence without actually having a look at what the climate needed at that point in time. With Pakistan we had certain non-negotiables, but that was all done within that culture and it'll be exactly the same with Sri Lanka.