---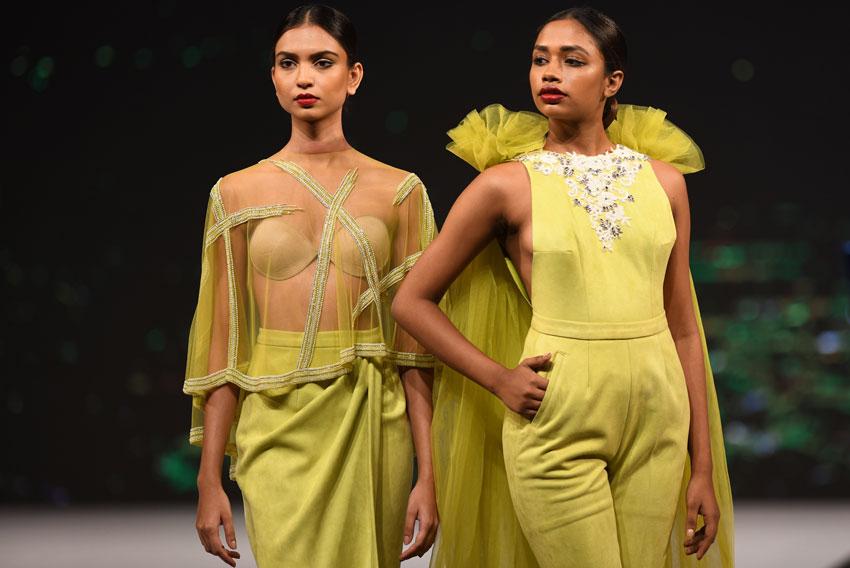 Today, we are conversing with an individual that represents a name that is celebrated in the local fashion space. It's now more than a platform simply for fashion showcases and is a parent to an array of movements, thriving for a fine-tuned mechanism of sustainability in fashion. In a world where notions of sustainability, circularity and consumer responsibility is mostly a hashtag trend, they are rising for a practical conversation among designers, consumers and other stakeholders of the industry. With the CFW excitement right around the corner, we have with us Fazeena Rajabdeen, the Chief Executive Officer and Director of Colombo Fashion Week, to grasp a different side of fashion. It is truly a pleasure to have her.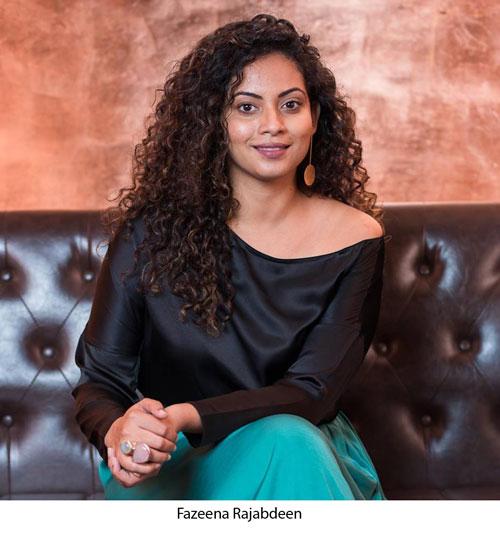 (1)Working in one of the most attractive (and environmentally challenging) industries on the planet, CFW is on the road to create circularity in Fashion. What is meant by Circularity in Fashion and how important is it to work towards attaining it? In a nutshell, Circularity in Fashion would mean to prolong use of a garment, designing with a mindset to repurpose what was made and using materials and processes that has no negative impact on the environment. Recreating, revaluing and recycling play a major role in defining the journey of every garment. It's the way we design and use clothes; the Take-Make-Dispose mindset needs to change. The fashion industry is one of the major polluters of our oceans and environment with its plastic pollution, clothing waste and hyper consumption of fast fashion, to name a few. Fashion MUST change direction and reinvent if we are to solve environmental issues that the world faces right now. It's imperative and hence, is our responsibility to have this conversation and act now.
(2)From a consumer's perspective, fashion enlivens culture, expression and of course a socio-economic aspect to many. In this atmosphere how can we make "responsibility" a fashionable thing? The ambition to change the fashion industry is a vision by many of the stakeholders within the industry. However, a huge responsibility still lies with the consumer. Responsibility is a constant dialogue between fashion creators and fashion consumers. For fashion creators to create responsibly, the drive to possess sustainable clothing must come from the consumers. Consumers need to ask the right questions and keep the dialogue going. Every time a consumer makes a conscious purchasing decision, he or she gives a vote to a responsible product and encourages designers to continue creating responsibly. This collaboration and conversation between designers, producers and consumers is what can change the narrative.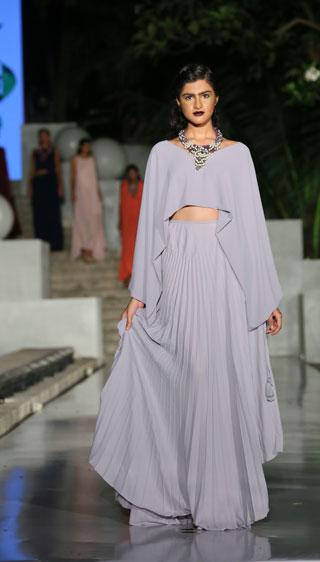 (3)It definitely is in question whether it's the supply or demand that is challenging waste management. Nevertheless CFW brings light to clarify designer responsibility and unity in the cause with "Colombo Circular." I'd like to hear more about it! We believe it's the demand that challenges waste management. In fact, it is an artificially created demand through hyper-stimulants like high-value retail sales that propels consumers to buy what they don't need under the pretext that it is a good deal. And this collaboration and conversation between designers, producers and consumers is what can change the narrative. This leads to hyper-production and as a result hyper-consumption. Colombo Circular is a private ecosystem created by CFW for its stakeholders, where one designer's waste becomes another designer's resource. It is formatted as a model which after its initial stage aims to expand itself beyond the fashion industry into other related industries. The project aims to cultivate collaborative efforts towards designing with a disposal mindset and giving new life to existing products and extending its life cycle. Colombo Circular designers retail at The Edit, Level Two, One Galle Face.
(4)Amidst the beautiful color and fabric, there is a toll on the ecosystem. To balance the love for the planet and for fashion, CFW has developed a metric; the Responsible Meter. How can this change the game? The Responsible Meter is a garment evaluation tool created by CFW to guide and educate the industry towards a circular economy. It has taken into consideration the environmental, social and organizational impacts through its ten-point scoring system. It builds awareness and creates a dialogue between the designer and consumer. This awareness is the need of the hour for change.
(5)We hope to see a successful blueprint of one industry become the backbone to many other industries, especially in a progressive nation like Sri Lanka. Such hope we could see with the Responsible Fashion Summit held to adequately discuss sustainability and waste management. What is the essence of this summit? Responsible Fashion Summit is a thought leadership platform of the Responsible Fashion Movement. It encourages dialogue amongst leaders in Sri Lanka and internationally to share knowledge and create solutions which are accessible to all. Circularity, post the pandemic in 2021, is an urgent need in society where fashion and related industries need to realign and recalibrate to empower and encourage relevant solutions. Hence, Circularity 2.0.2.1 is the theme for the fourth edition of the Responsible Fashion Summit. It will be hosted as a digital conference and is comprised of three panels. With circularity being an important component of sustainability, a culture of circularity must be built up in any society or a city. The essence of this summit is to understand opportunities and challenges that need to be dealt with from the perspective of a circular economy in 2021. This impacts design, supply chain and tourism, especially when Sri Lanka aims to position itself as a sustainable tourism destination. Fashion as an industry is closely linked with tourism as it makes destination marketing attractive.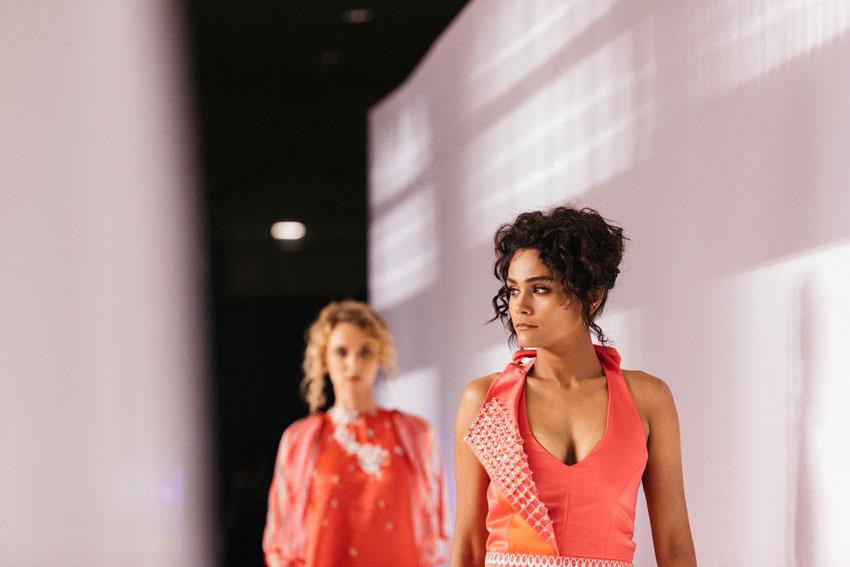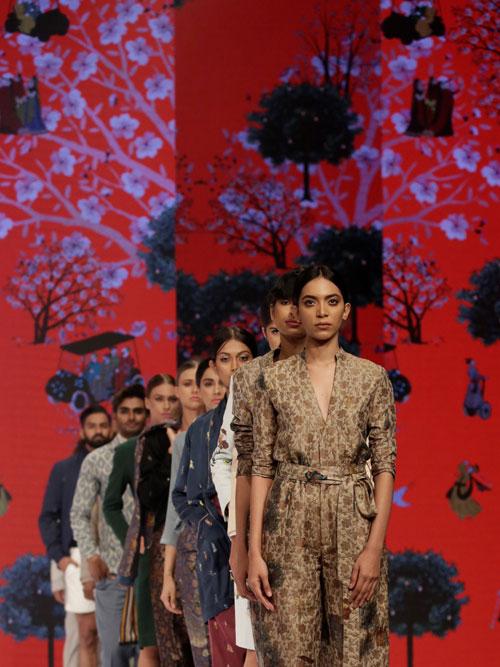 (6)Emerging designer development is a crucial part in inspiring one-of-a-kind fashion identities, globally representing cultures and being receptive to challenges in the new age. Let's talk about CFW's role in nurturing upcoming talent and how it's done differently. CFW as a platform since inception has been developmental in nature. The process of identifying, nurturing and propelling designers into the industry has been one of our main functions. In fact, this consistent nurturing ensures a steady flow of Sri Lankan design talent which gives form and shape to the fashion design industry in the country. Over the years, this system has been streamlined and developed into a multi-pronged approach to nurturing and unearthing new design talent with a single vision of creating a Sri Lankan identity in a global space. Ninety percent of the designers you see today are from the CFW design development system. To briefly explain the process, designers are guided on design thinking, collection planning, fashion marketing, brand presentation and retail feasibility over a period of three months and the process continues as they grow with the platform. Today, we are proud to have designers who have celebrated over ten years with the CFW design development system. Our vision for each of them is not to simply fill a rack space at a store, but rather a bigger approach to define their identity as designers so they are relevant and stay true to their strengths.
(7)CFW has also recognized how the Fashion industry can support the local supply chain and other facets of entrepreneurship, craftsmanship and even tourism. How does CFW participate in nurturing localization? For any design-related industry to gain traction and develop, a certain identity which captures the cultural and societal perspectives of a nation is paramount. Hence, as I mentioned above creating a truly Sri Lankan identity that is relevant and unique in a global space has been CFW's focus since inception. We do this by placing importance to the ethical use of Sri Lankan heritage crafts and opening up avenues for the development and progression of textiles.
(8)Why is CFW continuing to step up this season, in a Covid19 environment? As a brand looking into the future, what's the reason behind this decision? CFW is recognized as the backbone of the fashion design industry in Sri Lanka, and its voice. It is our mandate to continue progressing to create sustainable and new business opportunities for the fashion design fraternity of Sri Lanka. As a nascent industry, to innovate while being relevant is something we ought to do. So creating a new path post pandemic is a logical step forward.