---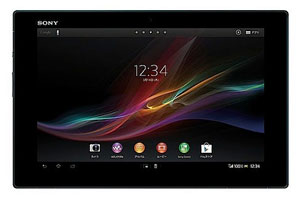 Sony's new tablet is arguably the thinnest 10-inch tablet yet. It's also really light. Sony's new tablet is really thin. How thin? Thinner than the already-very-svelte iPad Mini.

The 10.1-inch Xperia Tablet Z measures 6.9mm or about 0.27 inches. The uber-thin Mini is 7.2mm and 0.28 inches, by comparison.

Thinness is important in tablets because it translates to very light, easy-to-hold designs. And here Sony delivers too: it weighs in at 485 grams or just over one pound.

That also beats the 10-inch class competition: Apple's iPad 4 is 1.44 pounds.

The 10.1-inch Xperia sports a 1,920x1,200 "Reality Display." That's not quite the pixel density of the iPad 4's Retina display but it's pretty close. The Xperia is about 224 pixels per inch (PPI), while the iPad's 9.7-inch display is 264 PPI.

But, to be fair, both fall short of Google's Nexus 10 with a PPI of 300.

The Xperia Tablet Z specs:
Display: 10.1-inch 1,920x1,200 display.
Processor: 1.5GHz quad-core Qualcomm Snapdragon.
Broadband: 4G/LTE (supported in Qualcomm silicon).
Camera: 8-megapixel with backside-illuminated sensor.
OS: Android 4.1
NFC: near field communication.
Thickness, weight: 0.27 inches, 1 pound.
Price/availability: No price yet. Slated for March release in Japan.
(Source : news.cnet.com)