---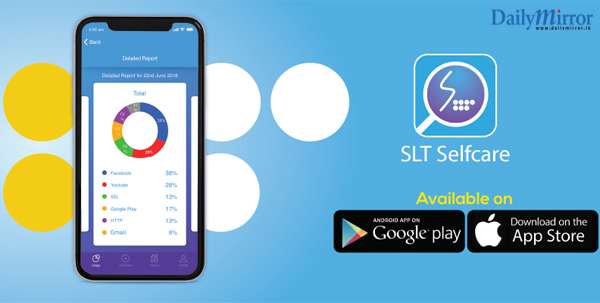 Sri Lanka Telecom, the national telecommunication service provider recently launched its mobile Selfcare App with an array of benefits to SLT broadband customers. This App with many modern features is on par with international standards.
For Android users SLT Selfcare App is available in Google Play Store while for Apple users it can be downloaded via Apple Store. Once the app is downloaded the users can use their SLT Broadband User name and Broadband Portal password to Login.
Services provided through this App includes comprehensive details including data limit notifications, data usage and remaining data. One of the salient features of this App is the possibility to observe daily data usage pattern for the current month and last two months. In addition, users can view a daily summary of usages of applications such as Facebook, YouTube and Gmail. Usage report are divided into downloads, uploads and the total usage.
Payment for extending data can be done either via adding the extra amount to your phone bill or by credit/debit cards. For added safety, the app redirects to the same portal as the desktop version when making online purchases. You can also keep track of your previous purchases as well.
An additional service offered through this App is the opportunity given to the customer to purchase an additional data bundle when the current data usage exceeds the prescribed limit.You can add either 1,2 or 5GB of data respectively. You will have the opportunity to extend your data volume even beyond 5GB.
App provides the functionality to view historical additional data usage and purchases made. With many features such as Information on customer package details, contact details, SLT Broadband password and the option to change the account details makes the SLT Selfcare App more user-friendly.