---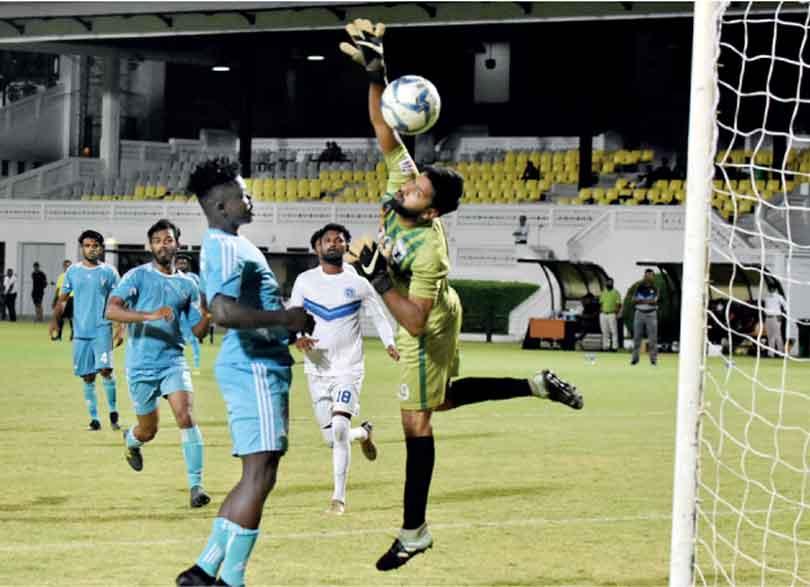 Action from the match between Ratnam SC and Sea Hawks FC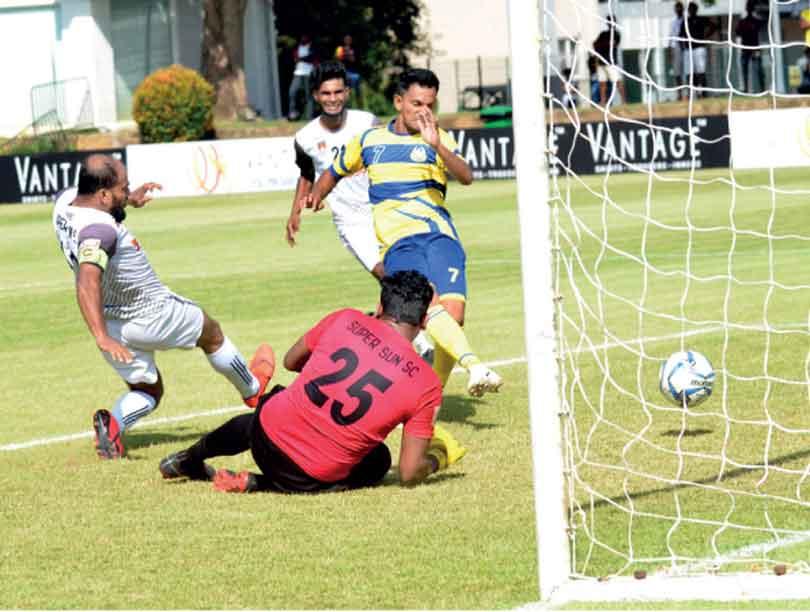 Saunders SC scoring a goal against Super Sun SC
By Susil Premalal
Reigning FA Cup champions Police SC scored a clinical 2-1 win over Serendib SC to top Group 'D' and book their berth in the last eight of the FFSL President's Cup 2020 Football Tournament fixture played at the Sugathadasa Stadium under lights yesterday.

Police SC bounced back from their loss to Sea Hawks FC with goals either side of the interval from M. J. R. Mohamed (33rd) and W. K. A. Chathura (62nd) to secure a crucial win despite R. A. C. Madushan's strike in the 71st minute.

Meanwhile, Ratnam SC romped to a 4-1 victory at the Racecourse Grounds denting Sea Hawks FC's chances of moving into the knock-out phase of the competition. Serendib SC are tied with Sea Hawks with four points each but have a better goal average and may qualify as the three best second placed teams in the group.

Earlier, Saunders SC bowed out in a blaze of glory with a 9-5 win over Super Sun SC in an entertaining Group 'C' encounter played at the Racecourse Grounds.
With both teams out of contention to qualify for the knock-out round, they made merry throwing caution to the winds in a 14-goal thriller.

Saunders SC went on the rampage in the first half scoring six unanswered goals with D. de Silva opening the floodgates in the fourth minute. M. Kurshid who scored a hat-trick struck in the 22nd and 40th minutes. S. Niresh (25th), C. Abeysekera (30th) and S. Perera (41st) found the net with ease at regular intervals.

Super Sun SC got their act together after the interval with M. Rifkhan finding the net in the 50th minute.

Saunders continued their blitz with D. de Silva scoring a brace in the 63rd minute while Kurshid completed his hat-trick in the 69th minute while Niresh slotted home a penalty in the 73rd minute punctuated by P. Sharujan's strike for Super Sun SC in the 70th minute.

Super Sun SC replied with a hat-trick of goals by Shazam within the space of eight minutes late in the match to restore some pride.

Defenders FC edged-out Red Star FC 1-0 at the Sugathadasa Stadium thanks to a 40th minute penalty from R. J. Bernard as both teams ended with six points from two wins to qualify for the last eight from Group 'C'.