---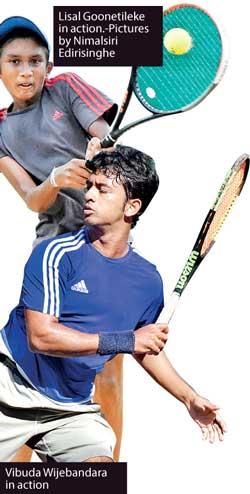 By M. Shamil Amit
Vibuda Wijebandara advanced to the semi-finals of the men's singles event of the 105th Colombo Tennis Championship when he outclassed Venuka Kithnula with ease by two sets to nil in the quarter-final encounter played at the SLTA tennis courts in Greenpath, Colombo yesterday.

In the main matches of the day, the third round of the Under 14 boys' and Under 12 girls' was concluded. In the boys' event, Sandaru Guruge along with Lisal Goonetileke, Dhanushka Dias, Aweesh Ganegoda, Thisandu Bellanaarachchi and Kenuka Geeganage won their matches to book their places in the pre-quarter-finals.

In the girls' event Hesara Nisindee along with Akeesha Silva and Nisali Dissanayake came out victorious to advance to the pre-quarter-finals.

The championship will be continued today.
Results -
Singles:
Quarter Final: Men's Open – Vibuda Wijebandara beat Venuka Kithnula 2-0 (6/2, 6/3).
Third Round: Boys Under 14 – Sandaru Guruge beat Binuka Silva 2-0 (6/0, 6/1), Lisal Goonetileke beat Abdul Cader 2-0 (6/1, 6/2), Dhanushka Dias beat Rehan Gunawardena 2-0 (6/0, 6/3), Aweesh Ganegoda beat Karthi Udayachandran 2-1 (6/0, 4/6, 10/3), Thisandu Bellanarachchi beat Lithium Jayabandu 2-0 (6/4, 6/4), Kenuka Geeganage beat Dhanushka Wickramanayake 2-0 (6/3, 6/1)
Girls Under 12 – Hesara Nisindee beat Zaha Meezan 2-0 (6/1, 6/3), Akeesha Silva beat Vinethya Dharmaratne 2-0 (6/2, 6/3), Nisali Dissanayake beat Akithra Perera 2-0 (6/3, 6/1)