---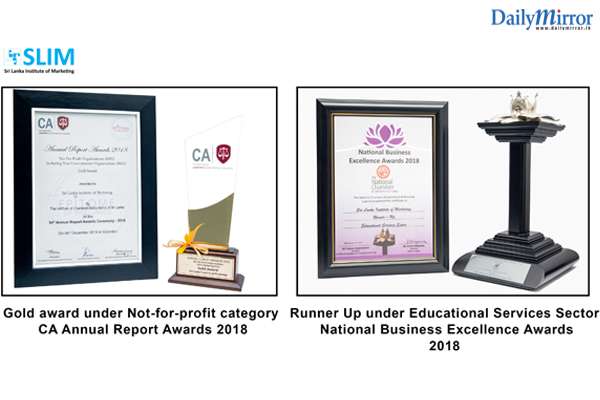 •
SLIM proudly accepts Gold in the 'Not for Profit' category at CA Annual Report Awards 2018
•
Runner up at the NBEA Awards 2018 for Educational Services
•
These awards emphasize excellence in education, membership, T&D and corporate solutions
With its emphasis on constantly raising the bar and creating benchmarks for the marketing fraternity, the Sri Lanka Institute of Marketing (SLIM) clinched two accolades at the country's most prestigious awards, which recognise the best practices delivered by diverse entities in multiple categories. Proudly holding up a Gold Award for its emphasis on governance, ethics, values, transparency and accounting in the Not-for-Profit category at the 54th CA Annual Report Awards organised by the Institute of Chartered Accountants of Sri Lanka, SLIM pushed the bar upwards from the silver it was awarded last year. Adding to its portfolio of wins, SLIM was recognized as the Runner Up at the 15th National Business Excellence Awards organised by the National Chamber of Commerce of Sri Lanka in the Educational Services sector, reiterating its ethos of empowering the marketing fraternity with the best knowledge gathering, skills and competencies to optimise the profession.
Based on the theme, 'Quintessence of Eminence' to recognise the most cohesive, clear and customised annual reports that go beyond mere financial performance to encompass an entity's holistic overview of operations, which is communicated effectively to all stakeholders, the President of SLIM, Pradeep Edward enthused on SLIM's ability to showcase its prowess to this eminent body of governance CA Sri Lanka. "With this Gold, we have underlined SLIM's stability, strength and sustainability, showcasing the way we conduct our business to stimulate national value and meet the country's macro agenda to journey towards economic prosperity. We add that crucial vignette of professionalism through a fraternity that is integral to the forward march of this promising nation, now poised to move into leadership status in the region."
Edward also added that trust, ethics, respect, transparency and responsibility are woven strongly into the SLIM fabric, "which being the apex marketing body in the country enables us to steer and lead the country's marketers into wider more expansive roles in their professions and in the larger sense, the industry and country." With the CA Awards judging entities beyond their operational and financial excellence, and on the permeating impacts they have on their multiple stakeholder segments, SLIM's excellence in education, membership, training & development and corporate solutions were well entrenched in its annual report and thus gained the affirmative nod of the eminent panel of judges.
Having already walked the stage to accept similar kudos last year at both award ceremonies, this year SLIM vied with over 140 entities ranging from blue chip conglomerates to SMEs at the CA Awards and an excess of 92 at the NBE Awards. The latter, structured under a new evaluation model of seven perspectives that includes leadership, excellence in governance, capacity building, performance management, local and global market research, CSR and environmental sustainability, and business and financial results had 29 business sectors under which applications were entertained.
For the CEO/Executive Director of SLIM, Sanath Senanayake, the awards are particularly encouraging, "because they recognise the continuous improvement of that bar of excellence, whether in performance, operational excellence or in imbuing a culture of best practices. We must also commend the SLIM Team who have always taken the onus to ensure that this bar is on a continuous upward trajectory. They have now been rewarded with these two awards, a definite testament to their ownership of our philosophy, culture and values."