---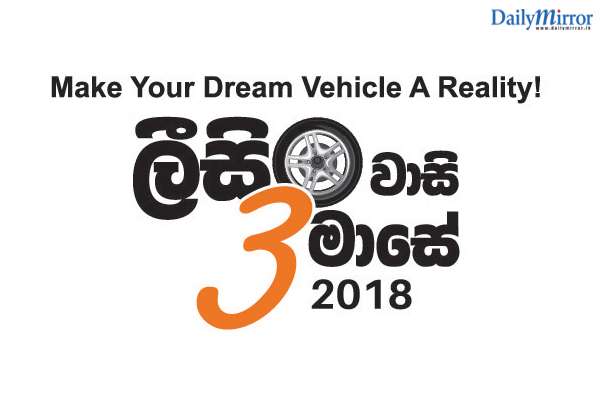 Sampath Leasing is conducting its 4th annual "Leasing Wasi Thun Mase" mega leasing drive from 1st June to 31st August, 2018. The 3 month long campaign is part of Sampath Bank's efforts to help ever more individuals and businesses across Sri Lanka realise their dream of owning a vehicle.
Customers can avail special leasing rates starting from as low as 13.5%, the lowest in the market, over these 3 months. They will also be able to obtain leases for up to 7 years for brand new and unregistered, Japanese and European vehicles during "Leasing Wasi Thun Mase". The low interest rates and extended settlement periods together are set to make leasing a vehicle more affordable, especially for salaried public and private sector employees and owners of small and medium businesses.
Moreover, customers do not have to provide any guarantors to obtain a lease. Processing all applications swiftly, Sampath Leasing will provide them with a lease within 1 working day.
"We are delighted to kick off Sampath Leasing's annual "Leasing Wasi Thun Mase" drive for the fourth consecutive year," said Mr. Thusitha Nakandala, Deputy General Manager - Branch Banking, Sampath Bank PLC. "While we continue to offer some of the best leasing rates and benefits all year round, the three month long campaign will see us offering even lower rates and a host of other added benefits. We invite consumers and businesses, especially the SMEs around the island, to avail the unmatched benefits on offer and realise their dream of owning a vehicle with Sampath Leasing."
Adding to the appeal of these already irresistible leasing solutions, Sampath Leasing will be hosting mega leasing fairs in partnership with leading automobile dealers in several key towns including Chilaw, Matara, Galle, Jaffna and Ratnapura.
Customers will have the opportunity to test drive vehicles from several reputed brands on display at these events and also seek advice on them. Making the vehicles even more affordable, dealers will be offering special discounts. And the Sampath Leasing team will be on hand to provide counsel on the leasing solutions as well as on the spot lease approvals.
They will also receive a free credit card with the joining fee and first year annual fee waived off.
To learn more about the unparalleled benefits on offer during "Leasing Wasi Thun Mase", call Sampath Leasing on 0777 66 33 77 or visit your nearest Sampath Bank branch.