---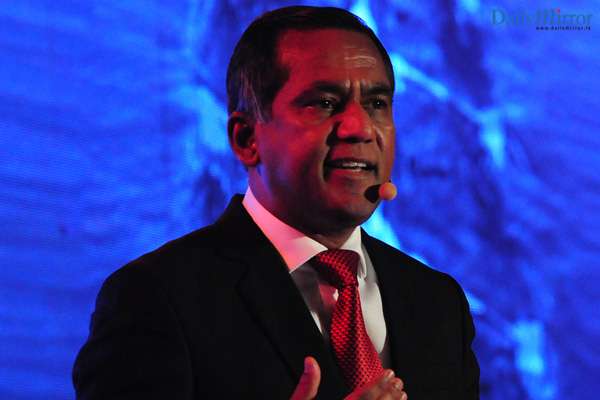 Mr. Nanda Fernando, Managing Director, Sampath Bank PLC
Sampath Bank recommitted itself to offering technology driven, world class financial services to Sri Lankan consumers and businesses at an awe-inspiring event titled "Towards Vision 2020 with Sampath Stars" held at the Hilton Colombo, recently.
Apprising over 1,000 Sampath Bank team members present of the Bank's significant recent milestones, Mr. Nanda Fernando, Managing Director, Sampath Bank PLC shared his strategic vision for the Bank towards 2020 with them.
He reiterated his firm belief that over 4,000 members of the extended Sampath family were the key asset of the Bank and their commitment and relentless efforts were instrumental in shaping the Bank's success. Thanking them for their continued support, he called upon them to join in on working towards realizing this vision over the next two years. Together, all team members took a solemn pledge to extend their fullest support to the Bank to achieve these goals.
The ceremonial event also saw Sampath Stars being recognized for their loyalty and performance.
The Sampath Achievers Awards for 2017 were awarded at this gala event in recognition of outstanding performances at branch, department and individual level during the year 2017.
Branches received awards under 5 categories - Highest Percentage of Budget Achievement 2017 - Fee Based Income; Best Percentage Achievement of Budgeted Target 2017 - Cost to Income Ratio; Best Percentage Growth Compared to the Budgeted Target 2017 – CASA; Best Percentage Growth Compared to the Budgeted Target 2017 – Advances and Highest Percentage of Budget Achievement 2017 - Profit Before Tax. The best Zonal Office, Profit Centre Department, Cost Centre Department and Hybrid Department for 2017 were also recognized.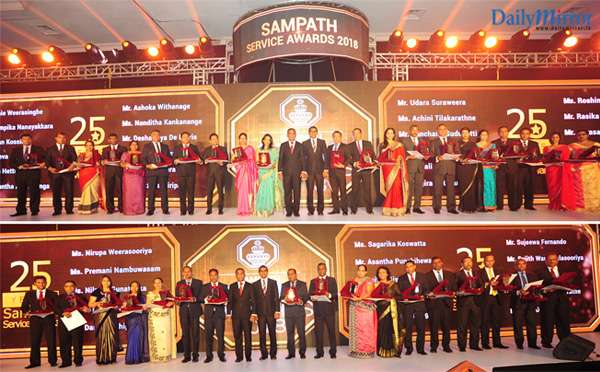 Recipients of Sampath 25 Years' Service Awards
Individual awards were bestowed upon Mr. Dilan Perera, Ms. Shaniya Wickramasuriya, Ms. W. G. Samanthi and Ms. Samuditha Samaratunga in the Deposits Champion, Advances Champion, Academic / Professional Achievers and Special Talent categories, respectively.
Special recognitions were awarded to Sri Lankan ace spinner Mr. Rangana Herath, a member of the Sampath family for over 18 years, and Mr. Lalith Weragoda, Assistant General Manager - Human Resources, Sampath Bank PLC. Mr. Herath was felicitated for his outstanding contributions towards the success of Sri Lanka Cricket and his recent achievement of becoming the first left-arm spinner to take 400 wickets in test cricket. Mr. Weragoda was recognized for becoming the first Sampath team member to receive the highest academic award, a PhD, whilst serving in the Bank.
43 members of Sampath Bank were felicitated with the Sampath 25 Years' Service Awards. Having completed 25 years of service as at 31st March 2018, they were honored with a trophy and a commemorative Gold sovereign.
The festive evening included performances by popular local artists as well as talent from within Sampath Bank.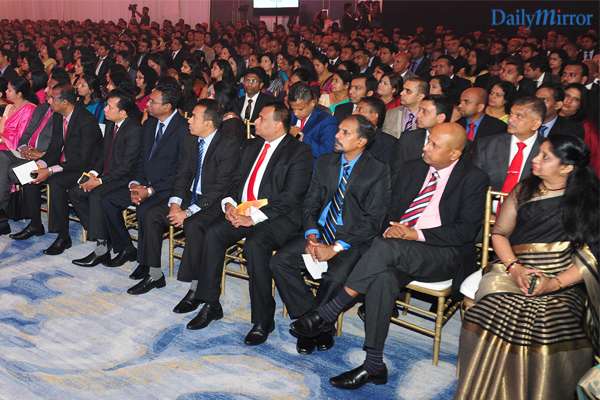 Members of Sampath Bank family at the event