---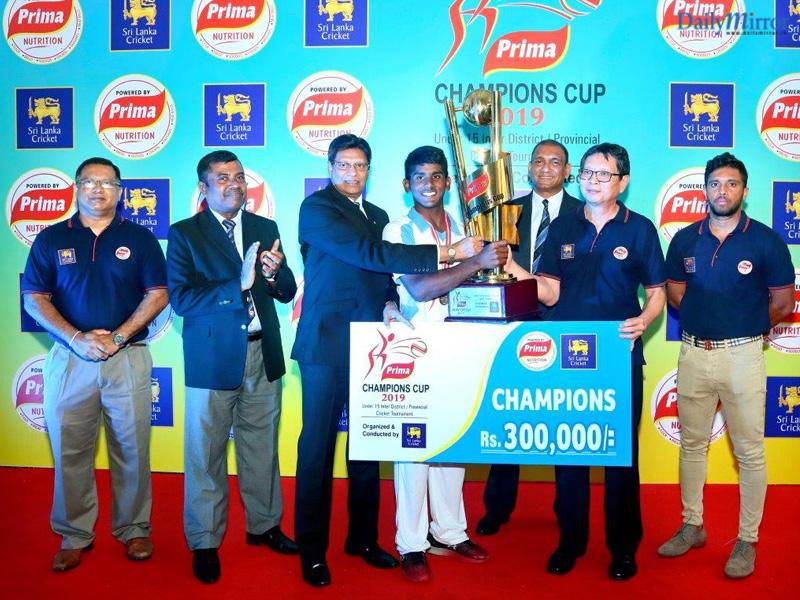 The 9th of November saw the conclusion of the Prima Champions Cup 2019 at the R. Premadasa Stadium, with Western Province North securing the victor's trophy, having beaten North Western Province by 69 runs under the Duckworth Lewis method.
Organized by the Prima Group in collaboration with Sri Lanka Cricket, the Prima Champions Cup 2019 Under-15 Inter-District and Inter-Provincial Tournaments serves as a platform upon which aspiring young cricketers can gain recognition of their talents and further develop their cricketing careers.
A total of 600 players from all over the island participated in this year's tournament, of these, 12 teams made it to the provincial championship and the last two teams standing met on the pitch to battle it out for the ultimate prize. In this encounter Western Province North scored a total of 249 runs for 10 wickets, with Shevon Daniel scoring 84 runs (the highest runs score of the match) and Chathumina Fernando securing 3 wickets in 27 runs. The opposing team, North Western Province scored 100 runs for 6 wickets, with Gayan Weerasinghe gathering up a neat total of 35 runs and Sajith Vithanage acquiring 3 wickets in 24 runs (the best wicket score of the match). Other noteworthy performances included; (Western Province North) Chamath Chathuranga – 31 runs, Hiran Jayasundara – 28 runs, Sahan Dabare – 27 runs, Thimira Miran - 3 wickets for 31 runs, Vishwa Rajapaksha - 2 wickets of 49 runs, (North Western Province) Gayan Weerasinghe – 35 runs, Nethmal De Zoysa – 25 runs.
Prima has been providing and continues to provide the necessary nutrients, necessary materials and cricket attire for the players throughout the tournament as a means of support in developing their talents. The final match of the Prima Champions Cup was telecast live on national television, further boosting the level of exposure received by these talented young cricketers.