---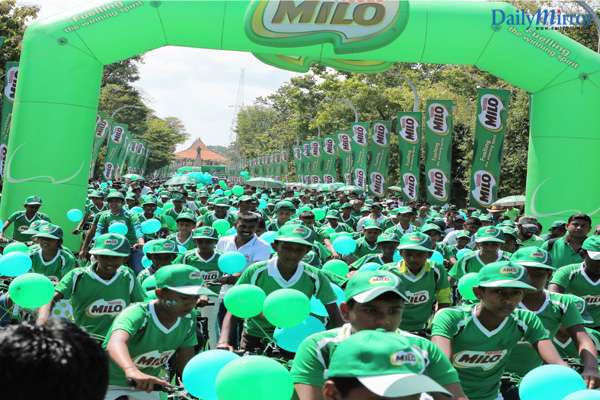 As part of Milo's ambition to help nurture a healthier generation, the brand is once again giving over 1,000 children and their families the opportunity to ride their very own Milo mountain bicycles and celebrate the grand finalé of the brand's 'Win 1,000 Mountain Bikes' campaign. The participants, chosen via a scratch-card SMS competition in October last year, will begin their cycle parade at the Sports Ministry Grounds on 12 January 2019. They will pedal their way through the city of Colombo and back again to the starting point, where celebrations will continue with a grand carnival. The event will focus on not only instilling healthy eating habits and an active lifestyle but also on encouraging kids to bond with their families.
In addition to the cycle parade, the event will include a 'breakfast movement', where kids and mothers will learn the importance of breakfast and ways in which breakfast could be made healthier and tastier; and be asked to pledge to start their day with a healthy breakfast. It will also feature fun activities including various on-ground games, entertainment items, performances, music, food, and of course Milo.
Said Mohamed Ali, Category Marketing Manager at Nestlé: "As a brand that strongly advocates the importance of good nutrition and an active lifestyle, we embarked on our hugely popular "Win 1,000 Mountain Bikes" campaign once again. As in the past, the campaign will culminate with a grand bicycle parade to show kids that staying active can be fun too. We want to encourage children to lead a healthier lifestyle with their families by cycling, a popular activity enjoyed by many kids, from the very start of the year. We are truly overwhelmed by the fantastic consumer response we have received for the campaign for the fourth consecutive year now. It is a reflection of the strong trust and love consumers have for the brand."
Milo is Nestlé's world leading chocolate malt beverage, enriched with vitamins and minerals. Milo RTD (Ready-to-Drink) is made from high quality fresh milk collected from thousands of local Sri Lankan farmers, the goodness of malt and the finest cocoa beans. Committed to "Fuelling the Winning Spirit," Milo has been at the forefront of supporting school sports from grass roots level for over 30 years. Inspiring consumers to achieve their best by supporting their drive to succeed, Milo has been able to encourage hundreds of thousands of children to be physically active, and support many promising athletes in their careers.