---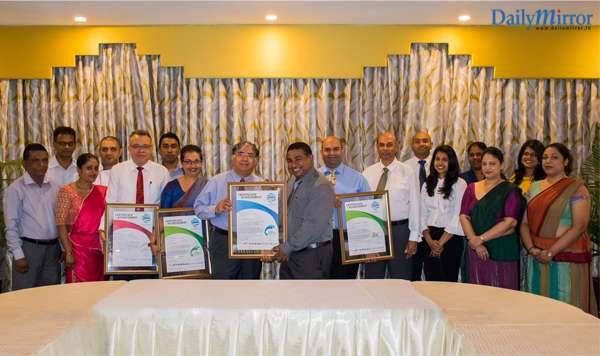 Handover of certificates to MRH Managing Director Mr. Jayantha Panabokke by CCC CEO Sanith de Silva Wijeyeratne (on behalf of SFG) with the Senior Management Teams of MRH and CCC in the background.
One of the Hill Country's most iconic hotels, Mahaweli Reach, revived its pledge to sustainability for a second consecutive year when it was recertified as a CarbonConscious®, WaterConscious® and WasteConscious® Hotel, and also became Kandy's first recipient of the unique 'Zero Carbon Hotel Stay™' certification. During an event graced bythe Hotel's Senior Management, the certifications were awarded by The Sustainable Future Group (SFG) – Sri Lanka's foremost sustainability validation, verification and certification services provider.
To obtain these accreditations, Mahaweli Reach Hotel (MRH) partnered with The Carbon Consulting Company (CCC) and their team of industry-leading experts for the development of a long-term Environmental Impact Management and Mitigation Programme. In-depth audits were conducted to assess MRH's GHG emissions, water consumption and waste generation and monitoring systems were implemented to frequently inspect the Hotel's operational systems and processes in relation to these focus areas. The latest inclusion to MRH's environmental accolades, Zero Carbon Hotel Stay™ provides guests the opportunity to offset the Carbon Footprint of an overnight stay at the Hotel through investing in a renewable energy project. In addition to these, the countless number of workshops and initiatives introduced for women's empowerment, youth education and employee well-being throughout the years demonstrates their dedication to social sustainability as well.
Commenting on their accomplishments, Mr. Jayantha Panabokke, Managing Director of MRH, said, "The past forty-fiveyears have been a tribute to our founder's vision of providing exceptional service and hospitality to our guests, which is why we embarked on this sustainability journey. And now, for the first time in Kandy, we have the privilege of further engaging our guests in our initiatives and offering them the option of completely negating the environmental impact of their stay with us. There are many challenges ahead of us, but I feel confident that with the guidance of CCC, our staff and management team will drive our initiatives forward and push the boundaries of what responsible tourism can be."
Sanith De Silva Wijeyeratne, CEO of CCC, also remarked, "We're honoured and proud of the dedication and accomplishments over the past year of Mr. Panabokke and his team. Their pledge to a sustainable agenda and commitment to cultivating the community is admirable. This new milestone places them at the forefront of innovative hospitality businesses and is a testament to what other companies in Sri Lanka can accomplish for a more sustainable future."