---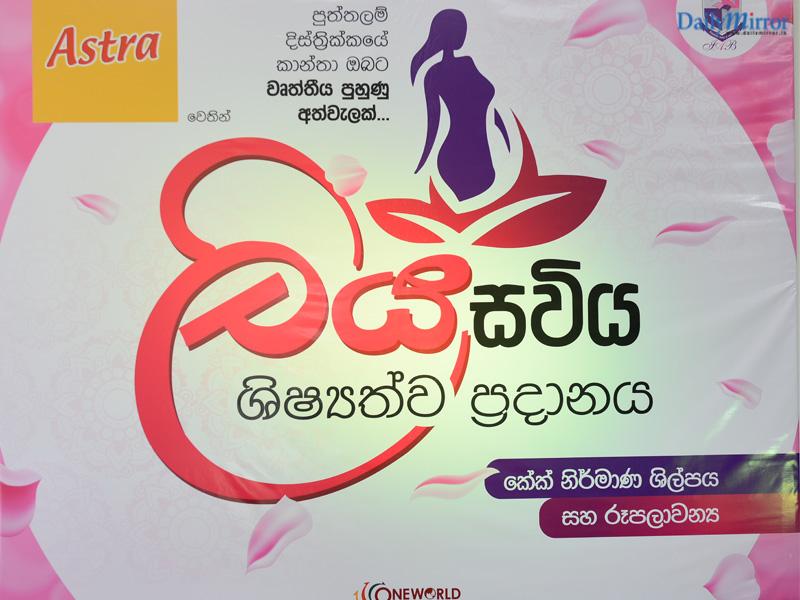 It is time to take a strife to comeback from what COVID 19 has left the world with. Not only has it crippled the many industries globally, but has had a toll on men, women, and children as individuals in terms of mental stress and issues with earning a living.

Those who were mainly affected by this unexpected catastrophe are mainly lower income and lower middle-income earning families and undoubtedly, many organizations are taking measures to put back together what may have been shattered by the coronavirus wave that struck the world at the dawn of 2020.

However, as efforts to support such women, "Liya Saviya", a vocational education programmes for women is launched by Astra who has together with the Tourism industry, Hasini Gunasekara a leading Beauty Culture Academy and Chef Dushanthi Madanayake of White Flower cake academy. This is a platform where those who are interested can invest their time in vocational training sessions which will empower them to be self-employed while strengthening their mental health as well.

At a time when the countries education system experienced a turning point, "Liya Saviya" also breaks traditional norms but mainly aims at reaching women who are in rural areas of the country and is offered via an online app called "IAB Online app" which can be accessed through any smart phone.

The programme will prove to be a haven to those who wish to commence home based businesses in the rural areas with proper training while entrepreneurship is guaranteed.

'Astra', a brand that works for the wellbeing of the community, kick starts the programme by awarding 250 scholarships to applicants to empower themselves in baking especially cakes, thus scholarships were awarded by Astra on the 30th and 31 of July.

Not only baking cakes but decorating them will be a part of the training provided along with the know-how on running their own business. Accordingly, participants will receive a country wide recognized certificate from 'White Flower cake academy'.

There is nothing better than baking with Astra and it is always a good start and the initial programme commences from the Puttlam district which later expands island wide. Apart from providing the know-how, Astra also intends in providing, discounted Astra products as an encouragement. Support needed for the marketing of the business in terms of digital platform is a major asset that Astra has in line as a part of Liya Saviya.

Let us make it now than later and have a good start with Astra to bake a cake, and bring a smile to your loved ones, especially kids.

Measures as such will enable mothers to overcome the financial crisis currently faced. With better financial environments at home, our mothers will be able to transform their homes into happier and healthier environments for the kids, providing them with the best of everything; which is what Astra and the team hopes for ultimately as the overall outcome of this initiative.