---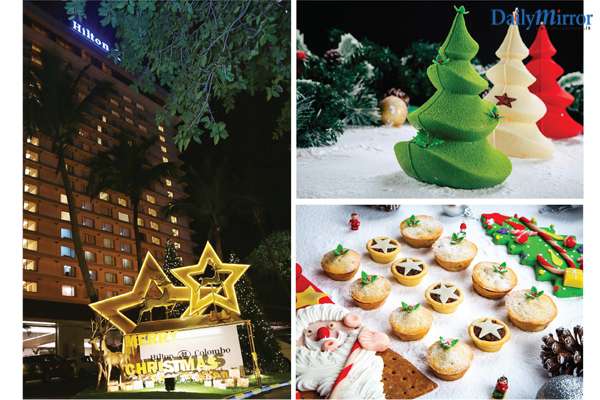 Christmas is all about tradition and year after year Hilton Colombo welcomes back friends who have made a seasonal gathering at the hotel, a much anticipated ritual. This season, Hilton Colombo invites you, your family and your friends to bask in their cozy, glowing atmosphere while they help you create truly special memories.
To delve into the spirit of the Festive season, Executive Chef Robert Mujagic and his team of chefs are creating delightful dining treats. From indulgent festive luncheons and dinners to glittering party nights, promising to fill this year with a Christmas essence that will have you and your loved ones reminiscing for years."It's going to be a Christmas cracker of a get-together, sipping on a Christmas cocktail in our beautiful glass-fronted L.A.B or tucking into a festive feast with family and friends in one of our restaurants" says Gigi De Silva, Marketing Communications Manager.
ACHRISTMAS MARKET takes place on the 8th December from 10am – 6pm at THE BLUE. Time for twinkly lights, candy canes, jolly men in red suits and an endless indulgence in all things that bring you delight! Come to the Hilton Christmas Market for seasonal goodies galore, unique gifts, fabulous brands, kids' play area, carols and a host of fun activities to keep the whole family entertained. So put on your Christmas stockings and get into the holiday spirit!
Gourmet fresh seafood and meats, fresh imported seasonal fruits and garden vegetables gourmet products including imported cheese, chocolates and nuts and an extensive selection of wines & beverages. Ready to drink Eggnog, Gluhwein Pot and roasted Chestnuts will be available at the Hilton Goodies Stall. Kids, look out, Santa is expected to visit too! Entrance to this event is free. Visit the many stalls that will showcase their products at special prices; Zirc,Thimble, Paper Frills, Kidz Hub, Liyawal, Relive, Wrook, Coco Express, Quaintrelle, Alankar, Warm House, Pendi, Cocoon Furnishing, Olive Couture, Green Garden,RedPierrot, House of Lonali, Cane Couture, Club House Vivaldi, Xylo, Nimanse, J Flat, House of Gifts, Amani, Goodness Me and SHA Foundation.
CHRISTMAS TREATS AT CAFÉ KAI; Re-discover sugar and spice and all things nice with the extensive list of cakes, cupcakes, cookies, hampers and other goodies as the pastry chefs have created some indulgent creations this Christmas.Visit the gift shop and purchase your stock of all the traditional festive favorites from Christmas puddings to beautifully decoratedChristmas cakes, Yule logs, chocolates and a whole lot more. Exciting hampers with Christmas favs beautifully wrapped up, are also available.To help with all your customized holiday culinary needs, the chef will prepare your favorite Christmas menu, with great attention to your every need. Special festive roasts with traditional trimmings are available at Café Kai. Pre-orders will be undertaken. Open from 1st to 29th December 8.00am to 10.00pm fromSunday to Thursday and until midnight on Friday and Saturday.
Furthermore, at Café Kai, every piece of delight tells a story of the Chef's love of food; using the finest ingredients that will bring out the best this Christmas. Stop by and pick up the perfect creation that speaks to you. Delicate gourmet savory and sweet delights to keep you happy all day. Café KAI is open daily from 7am to 10pm and until 11pm on Friday & Saturday whilst the Cake section is open daily until Midnight.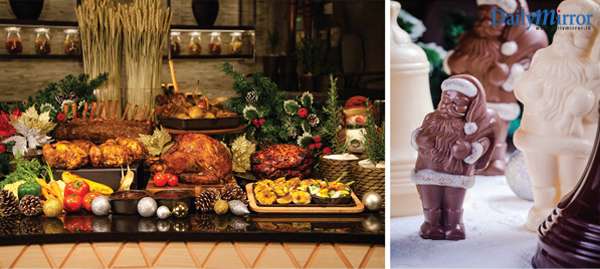 One of the highlights of the season will be the "Choirs of Christmas" at the L.A.B. (Lounge & Bar) from 15th to 25th December from 8pm – 8.45pm and "Christmas Interludes" at the Lobby with Tilanka on Flute, Lydia on Violin and Revel Crake on Guitar and JanithGamlath on Saxophone from the 10th until the 25th from 7.30pm to 8pm.
Performing Choirs;
Resonance: 15th, 17th , 19th, 24th& 25thDecember
Choro Calibre: 16th& 18th December
Asteria: 20th& 21st December
Camerati: 22nd& 23rd December
SANTA IN THE LOBBY from 20th - 24th December from 7.00pm - 9.30pm and on the 25th December from 11.00am - 3.00pm & 7.00pm - 9.30pm. Children can create memories with the jolliest man in the world! Santa will be available to take photographs with you at Santa's Railway Station.
SANTA'S WHEEL OF FORTUNE: Snap a shot at Santa's Railway Station located at the Lobby, upload it on Facebook or Instagram with the hashtags #HiltonColombo, #HomeforChristmas and #MyChristmasinSriLanka and stand a chance to win amazing prizes by spinning Santa's Wheel of Fortune! 8th - 25th December from 12.00noon - 3.00pm and again from 6.00pm - 11.00pm.
SANTA'S TOY SHOP: It's the season for giving.... Head over to Santa's Toy Shop located at the Lobby from the 1st to 29th December and pick out a gift for your little one! Unique toys from Kid & Co this season. Open 10.00am - 9.00pm Sunday - Thursday and10.00am - 10.00pm Friday & Saturday
FESTIVE AFTERNOON TEA at L.A.B from the 16th – 24th December I 3pm – 6pm
The classic afternoon tea has been revamped for a festive experience. Enjoy sweet and savory treats with a festive twist with the High Tea Platter for Two. Plain and raisin scones, clotted cream and strawberry jam, Mini Red Velvet Christmas hat cup cake, Christmas cake with Holy Leaves, Egg nog Tiramisu, Mince Pie Wreath, Mini Yule Log, Christmas Brownie tree and from the sandwich range you cansavor the mini bagel with smoked salmon, cream cheese, cucumber and quail egg, honey glazed ham, apple with arugula and soft brioche, asparagus, sundried tomato and olive pinwheel, rotisserie chicken, watercress and mayo toasted sandwich. The savorytreats; Salmon and asparagus quiche, Roast Australian beef pie with winter vegetables, Prawn toast with sweet chili sauce and Turkey puffs with cranberry jelly. Wash it down with a cup of tea or coffee served any way you like. RS 3888 NETT for two.
Enjoy aperitifs before dinner, relaxing digestives after your meal, or a creative cocktail before you retire for the day whilst you enjoy live entertainment nightly at L.A.B (Lounge & Bar)from 8.00pm to MidnightSunday to Thursday and till 1.00am on Friday & Saturday."Rock this Country" – Monday / "Alley Cats" - Tuesday / "In-Focus" - Wednesday & Friday/ "En Route" – Thursday / "Miracle with Kevin & Geoffrey Fernando" - Saturday /"Funky Loops" – Sunday.
Continue the festive celebrations with fine Italian flavors from an a la carte menu, packed with specialties, and a wine list to match, at the Il Ponte, and Japanese cuisine at the IkoiTei located at the Dutch Hospital Shopping Precinct.
Gather around a GRAZE Table with family and friends and have a holly jollyChristmas this year by dining in at Graze Kitchen with your family and friends and savor a scrumptious festive buffet. Relish a magnificent array of luscious international cuisines, a range of appetizers and salads, a traditional Christmas menu, desserts and much more.A Christmas Endless High Tea Buffetwith a delightful festive range of classic favs prepared by our award winning culinary team will be available on the 22nd December priced at Rs 2988nett. Two sittings I 12.30pm – 2.30pm & 3pm – 5pm
On the night before Christmas, enjoy the Christmas Eve gala dinner buffet with traditional fayre at GRAZE KITCHEN for Rs 8,888NETT per person. Christmas Day Lunchwill be a family festive buffet that will dazzle the eye and overwhelm the palate, with all your favorite seasonal specialties, to make sure everyone can celebrateaccording to taste; also priced at Rs8,888NETT. The Christmas Day dinner buffet will feature elegantly presented Christmas classics alongside a selection of international dishes catering to guests with discerning tastes.Rs 7,888NETT.Culinary magic is presented on New Year's Eve with an abundant selection of international cuisines and holiday classics on the buffet at Graze Kitchen at Rs 8,888NETT per person.
And of course no holiday is complete without a visit to the Sri Lankan and Seafood restaurant; Curry Leaf at the Hilton Colombo. Whilst enjoying live entertainment, indulge in luscious seafood prepared to order, accompanied by a buffet of exotic local fayre with a festive twist on
Christmas Eve, Christmas Day and new year's eve.7pm –Midnight, Rs 4888NETT.
Celebrate in grand style on New Year's Eve at L.A.B the lounge & bar, with a host of exciting activities to keep you on your toes throughout the evening. This event will ensure you celebrate welcoming 2019 in true Hilton style.Band BREXIT with Geoffrey Fernando will play from 7.00pm - 12.30am and DJs Perfect Beat from 12.30am - 4.00am. Minimum Charge Rs. 5,000/- nett redeemable for Food & Beverage.
Boogie the New Yearin at the POOLSIDEby stepping back in time and re-living the sounds of the 1980s to 2000s with classics from these epic decades. Includes an international dinner buffet, breakfast and entertainment with six top DJs; Kapila, Naushad, Bonnie, Thoshan, Hiranya and Sushan. Fireworks at midnight!Corkage FREE. 9pm onwardsRs 9888NETT. 50% discount on buffet for children 6 – 12 years.
Celebrate the last day of 2018, and ring in the start of the New Year amidst the lavish surrounds of the Grand Ballroom. Enjoy a decadent assortment of delicious canapes and cocktails served from 8.30pm – 9.30pm. Dine on a gala international dinner buffet menu crafted by the talented Executive Chef Robert Mujagic and his team along with live entertainment, offering an elegant atmosphere to countdown to 2019. And at the dawn of the New Year, indulge in a traditional Sri Lankan breakfast inclusive of western favs.Glasses will never be empty for a toast with 5 bottles of Premium Spirits and Wine and soft drinks included.Rs 18,888NETT Bands are Flame & Doctor, compered by Adam Adamally, 9pm onwards.
For details on the special package for corporate year end get-togethers in an elegant air conditioned marquee, please contact the Conference & Events team on 2492492. Furthermore be a guest at your own party whilst the experienced outdoor catering team takes care of everything.
The hotel is busy as Santa's elves, are working on an enticing array of events, treats and magical finishing touches to make your 2018 festive break even more memorable.The Christmas Coordinators will be available to assist you from 1st to 31st December from 10.00am to 10.00pmat the SPECIAL EVENTS DESK AT THE LOBBY. "We encourage you to book early to ensure you get your favorite table" says Gigi. In conclusion she mentions that one could spread the light and warmth of Hospitality by gifting that special someone a Hilton Gift Voucher."Vouchers are valid for dining at any of our restaurants or for overnight stays in a Suite or Deluxe Room". Special offers are available for Children; up to 5 years of age dine free and a 50% saving for children from the ages of 6 to 12 years – applicable for buffets only.
For more information please call 2492492/2544 644or e-mail: colombo@hilton.com