---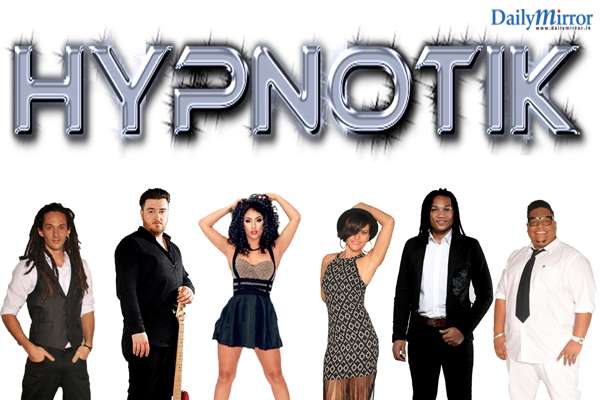 Starting May 17th, the L.A.B (Lounge & Bar) at the Hilton Colombo will transform into one big party venue! There will be special F&B menus to keep you going through the night. Performing times are Tuesday & Wednesday 8.30pm – 1am, Thursdays 9pm – 1 am and on Fridays & Saturdays until 2am.
Hypnotik is the force of diverse and multi-talented performers from around the globe bringing you the Top 40 Dance hits to the easy listening Jazz with the R&B, Rock, Reggae, Latin, Blues and classics in between. An energetic collective of Canadian, South African, British and Belgian artists, they bring their own original flavour to anything they sing or play.
The lineup of the band consist of vocalists Fern Lessani, Sophie Messina and musicians Hein Busch (Musical Director, Keys and vocalist), Felix Antoine Bergeron (Guitar) and Loic Dion (Bass/vocals) and Ian Ludolph (Drums/vocalist). Hypnotik is a party band on the international scene that will light up your night and not to be missed!
Hein Busch - Leader, Musical Director, Keyboards and Vocalist
Hein is an accomplished and diverse musician whether he is playing the bass, guitar, drums or keyboards he injects colour and life into all music he plays. Being a well-rounded musician his smooth warm vocals captivate all audiences and adds a lot of flavour to his performances.
Hein's dedication to music and unique style helped him become an International Covers Artist touring with International Bands and also being Musical Director. His long term love for music and his gospel background have earned him the respect from his fellow peers. Hein is an artist not to be missed.
Fern Lessani - Lead Vocalist
Fern Lessani is a sensational female vocalist who captures the audience with her stage presence and never fails to deliver. She has performed as a Lead vocalist & Dancer throughout the UK, Europe, UAE& Asia alongside groups & as a solo artist, supporting big names such as One Direction & Olly Murs and many more.
Having performed in front of thousands all over the world, Fern has great experience with working the crowd, involving them throughout the shows leaving everyone feeling great and experienced something worth talking about.
Sophie Messina - Lead Vocalist
Originally from Brussels, Belgium, Sophie has been a professional singer for the past decade. She has performed in successful cover bands, duets and trios on some of the greatest European, Asian, and Middle Eastern stages as a lead performer as well as a background vocalist. Her repertoire ranges from Soul and jazz standards to the latest Pop hits, R&B, Dance & Latin tunes, Classic and Rock.
Fluent in French, English, Spanish and Italian, she can perform in all those languages and includes classics from their repertoire when indicated. Also a versatile dancer, she has performed in several videos and was part of the official Nike Battlefield dance crew in Brussels. On stage, her performance is always enhanced by the freshest Hip Hop, Ragga, Belly dance or Latin moves, as she is also a salsa dancer. Evolving in the international music circuit, she is now performing in 7 piece bands as well as in jazz trios and acoustic duos.
Felix-Antoine Bergeron - Keyboard and guitarist
Félix has traveled all over the world performing in various 5 star hotels, international club chains and or corporate events. With a background in guitar, piano and drums as well as significant experience in music production, sound engineering and as a D.J., he embodies a multitude of skills and talent that resonates on the music scene around the world.
Felix is an ultimate showman and can really work a crowd and get them into a frenzy. Felix is one of the most sought after artist on the circuit and is a definite asset to any band.
Loic Dion - Bassist and vocalist
Loic was born in Sherbrooke, Canada. He's been playing bass, upright bass, guitar and piano since the age of 8 and has been on stage since birth following his parents who were also musicians playing in clubs all over Canada. Since he began his professional career as a musician he has played in Mexico, Bahrain, China and Canada.
He applies his strong experience in jazz and world music to popular music to give a groovy and soulful touch to popular Top 40 music. He also sings lead and back vocals in six different languages.
Ian Ludolph - Drummer and vocalist
Have you ever felt that music makes you happy and is important to you Ian Ludolph felt that way and decided to follow his dreams and make a career out of playing drums. At the young age of 12 he got up and sat behind the drum set at church which he did every Sunday and made it a goal to start playing that specific instrument.
Ian is from Cape Town and grew up in a troubled area of the city. He made it his goal to rise above his circumstances and tour the world doing what he love which is making music. He eventually started playing with well known musicians which took his musical talent to another level which contributed to making him the profession musician that he is today. Ian continues to strive to be the best artist that he can be!
For more information, call the F&B Reservations Desk on 2492492. Visit www.hiltoncolombo1.com & facebook/hiltoncolombo to find out more on what's happening at the Hilton Colombo.