---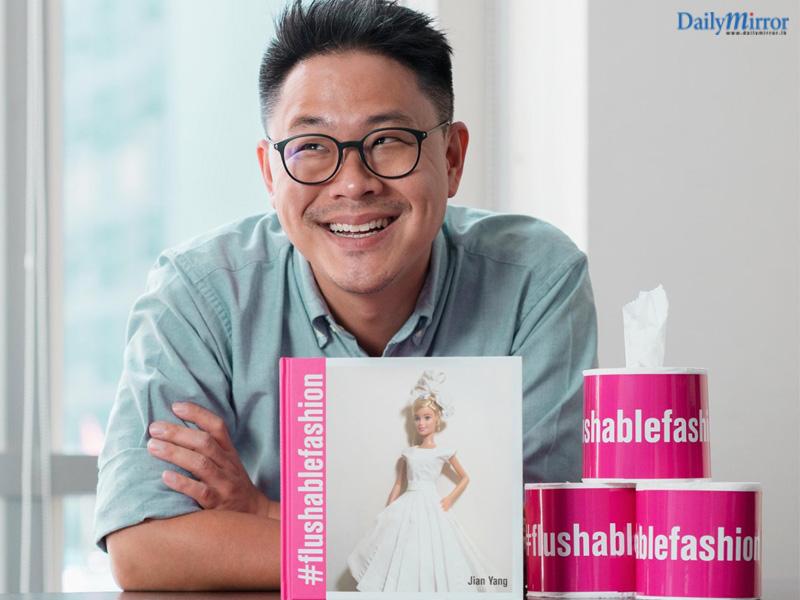 Jian Yang is globally known for his 12,000-strong doll collection, which is in the Asia Book of Records as the largest collection in Asia. No stranger to Instagram, Jian shares his collection and passion @jianyang1979, and is lovingly dubbed the "Toy Boy of the Internet".
But two years ago, he kicked off a new project in Sri Lanka that took him beyond his usual celebrity status and launched him once again into the global limelight.
Jian's coffee table book #Flushablefashion was launched to the Sri Lankan market at the A&K Lit Fest held on 20 October 2019 at the Mount Lavinia Hotel. The venue of the launch was no coincidence because the content of the book, beautifully curated fashion designs for Barbie dolls out of hotel toilet paper, tissue and restaurant napkins, first came to being at Mount Lavinia Hotel when Jian was on a business trip to Sri Lanka in 2017.
Jian travels everywhere with a couple of his dolls in a bid to constantly create Instagram content for his followers. One night on that business trip, he draped a dress for one of them from tissue paper, which he uploaded on his Instagram account. The initial reaction was amazing, encouraging him to make more throughout his two-week stay, including a Sri Lankan wedding sari inspired by a wedding he witnessed in the hotel's reception. When he visited Kandy, the Barbie doll even got a sari designed for herself. Over the next few years, Jian created these tissue paper dresses wherever he went, inculcating various aspects of the countries he visited and the hotels he was staying in, and started the trending #havetissuewilltravel. The collection soon received global media attention from the likes of Bored Panda, Yahoo, Nylon Magazine, The Hindu, dailynews.lk and even VOGUE Italia.
#Flushablefashion is a collection of some of the best designs, featuring his travels. The book was launched on 12 September 2019, followed by a launch in Australia a month later.
"I never imagined that one lonely night in Sri Lanka would spawn global interest in my miniature couture. The collection has now been to 20 cities across 11 countries in the two years since it began, and while it is now a book, I remain grateful to Sri Lanka for inspiring me to create. Careers and general adulting tend to make you forget how much you love to play, and I think more than anything, this book symbolizes how the power of play can transform someone's life," said Jian.
Speaking at the launch, Singapore Airlines explained how delighted they were to fly Jian down for the launch as it also coincided sweetly with the eve of the 50th anniversary of operations of the airline in Sri Lanka in 2020. "We had no second thoughts in being a part of this as we believe we can play a big role in creating shared stories between the two countries. The ties between Singapore and Sri Lanka have always been positive and promising, and this is another beautiful way to strengthen the relationship," said Mr Hu Hongyao, General Manager, Singapore Airlines Sri Lanka.
"The Mount Lavinia Hotel has been fortunate and honoured to be the beginning of this story," stated Sanath Ukwatte, Chairman of Mount Lavinia Hotel. "Throughout its history, we have had beautiful trysts with various artists. The legend behind the hotel as well as its setting has inspired many creative pieces, be it in writing, film, and art. Jian's #Flushablefashion is the latest".
The highlight of the evening was a life-sized Lavinia doll dressed by Jian, in his interpretation of a Mestizo dancer, which was made with less than a roll of tissue. He also did a live demonstration of his flushable fashion. Made in just over 7 minutes, he then presented it to a little girl in the audience, encouraging her to continue believing in the power of play.
#Flushablefashion is available for purchase globally on Amazon and Book Depository.