---
Spurred by the amplified need to effectively mobilise care in combating the pandemic, Dialog Axiata (Dialog) became the official connectivity provider to the entire spectrum of Public Health staff under the purview of Provincial Directors of Health Services which includes Regional Directors of Health services, Regional Epidemiologists, Medical Officers of Health, and Public Health Inspectors nation-wide. Dialog extended official connections offering free connectivity facilities within the network for the entire national system of Public Health staff. These official numbers of the public health officers in designated areas can be easily accessed via https://alt.army.lk/phi2/and will remain unchanged respective to that area, even if an officer changes or gets transferred.
The connectivity solutions extended by Sri Lanka's premier connectivity provider are specifically tailored to facilitate a fully-connected network of care teams and enable the Ministry of Health to effectively mobilise its network of Public Health staff leveraging connectivity as a safe care option. Dialog, together with the Ministry of Health, aims to streamline countless aspects of care delivery with these connectivity solutions, including relaying critical information in real-time that will, in turn, help better decision making. These solutions can also be integrated within current systems and scaled across organisations to extend the free connectivity facilities within the network to disaster management centres, tri-forces, public administration staff and more.
Commenting, Hon. Pavithra Wanniarachchi, (Attorney-at-Law), Minister of Health said, "We are grateful for Dialog Axiata for being a consistent pillar of support towards the Ministry of Health in our national efforts of combating the pandemic in Sri Lanka. The facilitation of these connectivity solutions will empower the entire spectrum of Public Health staff to effectively and safely mobilise our health care efforts. We look forward to scaling these solutions across other cross-functional Government entities with Dialog's support, thereby establishing a fully-connected and streamlined national care delivery system."
Commenting on this milestone achievement, Supun Weerasinghe, Group Chief Executive Officer of Dialog Axiata PLC said, "Amidst a year of unprecedented crises, we are grateful for the opportunity presented to us in harnessing the power of Dialog's connectivity for the betterment of the future of healthcare in the face of a new normal. Through the broad adoption of these connectivity solutions and with the backing of the Ministry of Health, we are excited to take the next steps in empowering the healthcare sector's critical need for seamless, faster decision making whilst further enabling greater mobility and simplicity in their processes."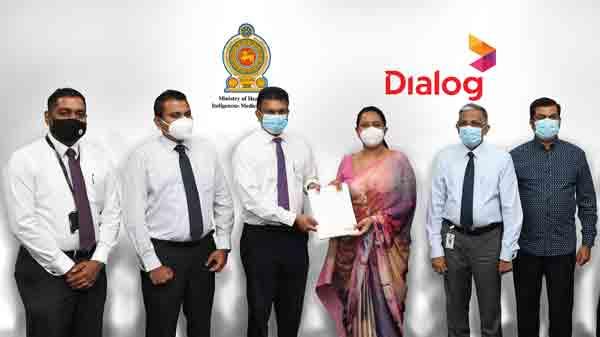 Photographed from left to right: Sumedha Herath, Senior Sector Manager - Large Enterprise, Dialog Axiata PLC, Roshan Silva, General Manager - Large Enterprise, Dialog Axiata PLC, Supun Weerasinghe, Group Chief Executive, Dialog Axiata PLC, Hon. Pavithra Wanniarachchi, Minister of Health, Dr Asela Gunawardana, Director General Health Services and Kanchana Jayaratne, Private Secretary to the Minister of Health.