---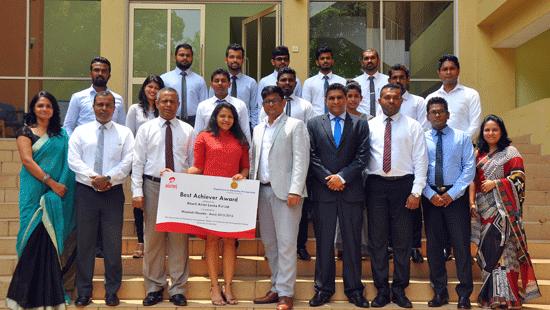 University of Kelaniya Commerce and Management Studies Faculty Marketing Management Department Senior Lecturer Madhuri Fernando, Department Head Dr. Ajith P. Medis, Faculty Dean Dr. P.N.D. Fernando, Graduate Best Achiever award recipient Minoshala Nissanka, Bharti Airtel Lanka CEO Jinesh Hegde, Human Resources Head Kanishka Ranaweera, Senior Sales Executive Buddhika Sandaruwan, Corporate Sales Manager Asanka Wijayadasa, HR Analytics and Operations Manager Sureni Dayaratne Wijesinghe, University of Kelaniya Lecturer Nisal Gunawardena and University of Kelaniya Lecturer Thilina Dhananjaya
Bharti Airtel Lanka opened its doors in 2017 to the undergraduates of the Department of Marketing Management, Faculty of Commerce and Management Studies of the University of Kelaniya under the Airtel Strategic Industrial Training Partnership Programme.
This programme was carved as an initiative to ensure undergraduates are better equipped and competent to face the competitive work environment by the time they are released to the workforce.
The inaugural batch of undergraduates enrolled in this programme were awarded with the certification of completion at the recently held awards ceremony at the University of Kelaniya.
This was a comprehensive 11 month academic cum industry work experience programme which included a combination of theoretical and rigorous practical field exposure that helped the undergraduates to develop their practical skills in sales, marketing and business acumen through a series of experimental learning and team projects.
"Airtel is honoured to have partnered with the Department of Marketing Management at the University of Kelaniya to provide its undergraduates a holistic education experience to prepare them for the future workforce. The demand for market-ready graduates in this county is always increasing and as a corporate responsible organisation, we believe it is our responsibility to assist our country's academic institutions in their efforts," said Bharti Airtel Lanka Chief Executive Officer Jinesh Hegde.
"We are confident that the batch of students who completed the Airtel strategic industrial partnership programme are now better equipped to step into the market to make a valid contribution to the organisations they join."
Airtel also sponsored Minoshala Nissanka who was the recipient of the 'Best Achiever' award from the batch 2015/2016 at the recently concluded graduation ceremony with a cash prize and Gold medal.
University of Kelaniya Commerce and Management Studies Faculty Marketing Management Department Head Dr. Ajith P. Medis said: "We are happy to have partnered with Bharti Airtel Lanka to offer our undergraduates this great work experience programme which has benefited them immensely. We constantly try to combine our academic curriculum with comprehensive practical exposure programmes so that our students get a more holistic experience of marketing management that is both relevant and apt to current workforce trends. We believe that this specific programme with Airtel will continue to enrich the lives of many more undergraduates of Department of Marketing Management who pass through the University into the workforce."