---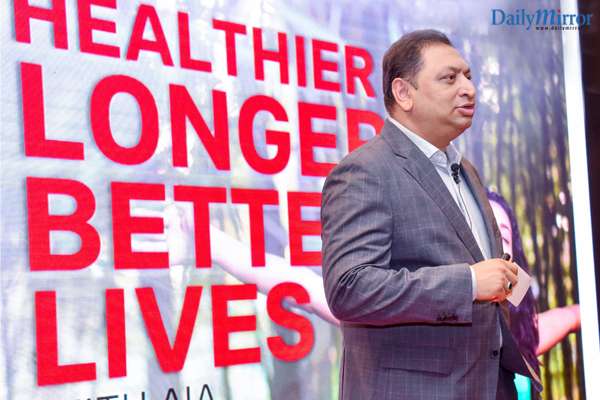 AIA Insurance, having undertaken extensive research across Asia to understand how, in today's world, AIA differentiates itself in a relevant and sustainable way, is proud to annouce a new brand promise; helping people live healthier, longer and better lives. Our goal is to help people to make the most of life. It's not just about living life but about living life well- living life to the fullest.
"And what does this mean for Sri Lanka?" asked AIA's CEO Pankaj Banerjee; "As an Insurer, AIA wants to step in to make a positive change to the way customers view insurance. We want to change the 'you die- we pay' model of insurance to 'we are here to help you live life to the fullest, with the people you love.' It is better for us as the insurer, it is better for the customer and ultimately, it is better for the community."
Pankaj continued "with a rapidly aging population, improving lifespans and more nuclear families the need for personal pensions has never been greater. As a responsible insurer, it is our role to educate people, help them plan and save so that our customers can indeed live life to the fullest in retirement. Another dimension of what's happening in Sri Lanka is that as people get wealthier, they aren't necessarily getting healthier! We don't exercise enough, smoke and drink too much alcohol and eat unhealthily! And as we're living longer, the chances of us needing medical care only increase. In fact, 75% of deaths are due to non-communicable diseases (NCDs), which are steadily on the rise. Again, this is a key area where AIA is stepping up to support Sri Lankans – we're ensuring that they are financially protected for any health eventuality – so that they can afford the best care and bounce back from illness. Better still, we're encouraging the overall wellness of Sri Lankans by motivating them to lead healthier lifestyles and rewarding them to do so".
The importance of AIA's mission was further validated by the findings of the annual AIA Healthy Living Index (HLI) survey which highlights prevailing health trends across Asia. The 2018 survey found that Sri Lanka is facing a critical illness 'finance gap' where savings, current levels of insurance and government health provisions may not be enough to pay for the treatment for critical illnesses (such as cancer, heart disease). 41% of respondents expressed their worry about having to financially cope with these serious illnesses.
"So how can AIA help?" asked Deputy CEO Upul Wijesinghe; "The cost of medical treatment is increasing. A brief hospitalisation for flu costs about Rs. 100,000, a bypass surgery about Rs. 750,000, a kidney transplant approximately Rs. 1.5 million and the cost of cancer treatment in an infinite amount. With people living an average of 20 years after retiring, how can retirees ensure that they can sustain the lifestyle they are used to along with the inevitable medical bills, when there is no sustainable monthly income? 50% of retirees in Sri Lanka depend on their children but we can all agree that that's not the ideal situation."
"This is where our products can help" he said; "AIA's expertise is in health and pensions with options for everyone from all walks of life. Our flagship health product AIA Health Protector has been designed to help our customers focus on getting better and not have to worry about finances. It is currently the most comprehensive health cover available in the market and not only covers 37 critical illnesses, 250+ surgeries, hospital expenses but also allows Sri Lankan's to secure the best medical treatment world-wide.
"AIA Smart Pensions is another great example of how we're ensuring a better life for the many Sri Lankans that trust their retirement savings with us. Packed with features, it is designed to maximise your savings when you are ready to retire. AIA Smart Pensions lets customers replace their monthly pay cheques with monthly pension cheques that then increase each month to fight against inflation. And it guarantees the pension to your beneficiaries even if you aren't around."
"AIA Vitality is another great example of how we help people live Healthier" said AIA Chief Marketing Officer Nikhil Advani; "a science backed wellness programme that helps you make a real change to your life by rewarding you for being active. By doing so we hope to motivate people to get active, fit and healthy." Over 30,000 Sri Lankans are enrolled on AIA Vitality and it is immensely popular with corporate employees who AIA signs up through the "corporate wellness days" it organizes across the country. The programme is free for anyone to join.
"Corporate wellness" is an important part of what we do because it ensures a healthy workforce which means happier, more productive employees. That is why we proactively conduct corporate wellness days where we engage employees to understand their health and show them how they can use Vitality to improve their health."
AIA also announced "The Healthiest Workplace Survey" in Sri Lanka for the first time - a comprehensive survey of the health and wellbeing of employees around Asia-Pacific. It builds on the success of Healthiest Workplace by AIA Vitality, which has surveyed employees and employers across several countries in Asia. On top of an overview of their lifestyle, clinical indicators, mental health, stress and other areas that may concern them, each participating employee will receive a personal report a subsequent recommendation for areas of improvement. 165 of Sri Lanka's leading corporates have registered for this and the healthiest company will be recognized and awarded at an event later in the year.
Call 0112310310 to find out more.