---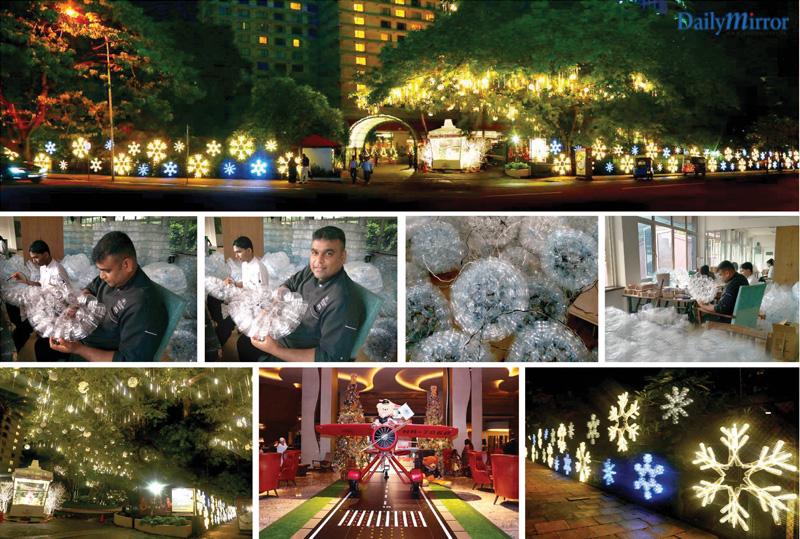 As Christmas approaches once again, Hilton Colombo took on the initiative to upcycle the single-use of plastic water bottles in order to create beautiful and sustainable decor throughout the hotel.
With the help of 9 team members lead by Kitchen Artist Champika Rajapaksha, in a span of 30 days, Hilton Colombo upcycled a total of 35,000 plastic bottles to make 250 Christmas baubles & 230 Christmas snowflakes to illuminate the trees and fences around the hotel during the month of December.
The 35,000 plastic water bottles were collected throughout the year from all the guests' rooms and dining outlets and stored safely for this initiative rather than disposing them. After the festive season, Hilton Colombo hopes to dismantle the plastic baubles and snowflakes and send them to a recycling plant to be used for making yarn.
Hilton Colombo has also given an opportunity to SME (Small and Medium sized Enterprises) to display their upcycled, recycled, chemical free and plastic free products on Pop-Up Carts in the lobby from the 1st to 28th December.
An aircraft built with recycled scrap iron on a runway set against a backdrop of two tall Christmas trees with an "airport", adorns the center of the lobby, bringing the message of this years' theme; "Home for Christmas"!
Christmas is all about tradition and year after year Hilton Colombo welcomes back friends who have made a seasonal gathering at the hotel, a much anticipated ritual. This season, Hilton Colombo invites guests, families and friends to bask in their cozy, glowing atmosphere while they help to create truly special memories.