---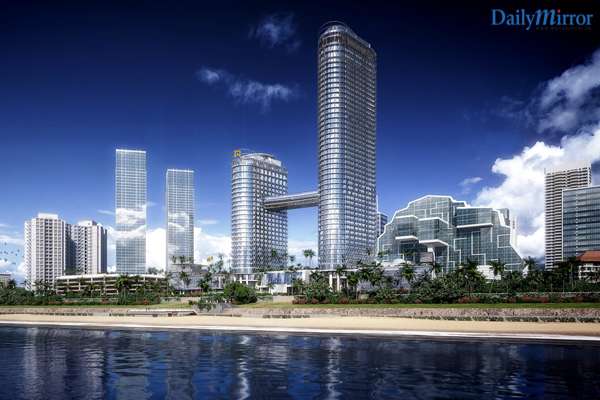 The new development, currently under construction with completion expected in 2021, comprises a 224 metre tall residential tower, set alongside a 140 metre tall hotel. Connecting the buildings at the 19th and 21st floors is a 54-metre long sky bridge, which incorporates a stunning bar and lounge on the lower level with spectacular lake, city and ocean views, above which sits an exterior pool and sunbathing deck. Elegantoffices available for lease or rent and high-end retail complete the mixed-use facilities on offer.With extensive landscaping throughout the complex, the drop-off areas, lobbies and retail components are elevated to the second level, whilst at the fourth level above this are a pool deck and an event deck (for the hotel's conference centre).
Situated between Beira Lake and the Galle Face Ocean front, Gensler has thoughtfully designed each tower using an innovative triangular plan to maximise the uninterrupted views from each apartment across the Indian Ocean and the city. Engineered with no external supporting walls, uninterrupted light flows into every residence, accentuated by almost 4 metre floor to ceiling heights (c.5 metres in the penthouses). Well-engineered blackout blinds ensure a good night's sleep.
The spectacular apartment interiors are by YOO inspired by Starck. Responsible for numerous interior design projects around the world, visionary creator Philippe Starck has drawn inspiration from the island culture and the serendipitous nature of Sri Lanka for his work at Sapphire Residences. There are four interior design styles available, giving residents the opportunity to choose a distinctive theme to suit their individual lifestyles:
•
Nature: Airy rooms with white oak floors and light fabrics. Sun-filled spaces shaped by organic materials, as well as soft and textured finishes designed to instil a sense of freedom, health and freshness in your living experience.
•
Culture: Spaces designed to socialise and engage with family and friends. Culture has a richer and darker material palette, eclectic mixture of furniture representing the different cultures of the world designed to instil a sense of cool vibrancy and happening in your living experience.
•
Minimal: Pure and simple layouts to enhance space and light, creating a quiet and calm ambience designed to instil a light, calm and tranquillity in your living experience.
•
Classic: Interiors that are refined, sleek, with strong colour ways and dark wood finishes. It reflects the natural elements and textures from nature designed to instil a sense of finesse and sophistication in your living experience.
Discussing his work as Yoo Inspired by Starck for Sapphire Residences, his first project in Sri Lanka, Philippe Starck said: "YOO projects, and Sapphire Residences in particular, are about You. I wanted to create a place that draws people together, that makes them laugh, make them more in love, more sparkling, more intelligent. I wanted to create fertile surprises to awake people, to create conversations, to create interactions. A place where we humans are at its heart. "
Each apartment will be pre-wired to enable the fitting of Home Automation Systems,bringing a state of the art 'internet of things' experience to a sublime environment and placing control at its occupants' fingertips. Serviced from a dedicated central control panel in each residence, the system can also be controlled and managed from a tablet or mobile phone and is designed to standards that allow it to evolve in line with technological advances in future. Voice recognition equipment can be integrated with the room controls and AV systems, allowing a superlative digitally controlled home automation experience.
The hotel is crowned by a helipad (the only one being built in the vicinity) that cannot only be used by VIPs, guests and residents, but also to meet medical and other emergencies and evacuation needs in the area. The helipad facility in the prime business district serves to upgrade Colombo's urban infrastructure on the lines of what is available in premier cities across the world.
ITC Hotels has developed and operates more than 100 hotels in over 70 destinations across the country, but the ITC One hotel and Sapphire Residences is the company's first development in Sri Lanka. The company's commitment to planet positive luxury experiences guarantees an outstanding luxury residential development with 5-star hospitality services created around its unwavering principles of 'Responsible Luxury' and 'Enduring Value'. In line with this ethos, Sapphire Residences has alreadyachieved the prestigious and globally respected pre-certification rating for LEED® BD+C (Core and Shell Development) at the highest Platinum level.
The Sapphire Residencesare scheduled to launch onto the market in Q4 2018 with Sotheby's International Realty. The impressive Experience Centre (accessed from New Baladaksha Mawatha in front of Beira Lake) opened last month.