---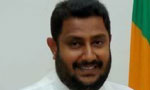 Deputy Minister Nishantha Muthuhettigama today denied allegations that he was behind Wednesday morning's attack on the stage set up for common opposition candidate Maithripala Sirisena's rally at Wanduramba, Galle and challenged Dr. Rajitha Senaratne to show the video of the attack if he had one.
"I had nothing to do with the incident and I was in Colombo when it happened. The attack had been carried out by several UNP members of the Baddegama Pradeshiya Sabha. This is the beginning of the downfall of the common opposition," he said.
Commenting on remarks made by MP Rajitha Senaratne that he possessed a video which showed the deputy minister was responsible for the incident, Muthuhettigama challenged him to produce the video.
He said the location where the stage was erected was under the Police guard. "I ask the police spokesman, who is boasting in Colombo, to come and inspect the location and to transfer the police OIC," he said.
Commenting on the recent crossovers between the government and the opposition, he said it was those who crossed over that always received the benefits and privileges.
"Maithripala worked hard to achieve his ministerial post; but Tissa Attanayake, who always criticised us, was appointed health minister soon after he joined the government. Our people crossed over because all the privileges and the priorities were given to those who came from the United National Party (UNP)," he said.
He said the newly appointed health minister would start appointing UNPers to the hospitals in the near future but vowed that he wouldn't leave the Sri Lanka Freedom Party (SLFP).
"I could have joined Maithri for privileges; but I have no reason to do so. I became a legislator because I wanted to became one and not because of the president. We may follow the president but we are SLFPers. I will join those who recognise my value. However, I won't leave the SLFP," he said.
Meanwhile the police said that three supporters of Deputy Minister Nishantha Muthuhettigama were arrested last evening in connection with the attack.(Lahiru Pothmulla, Darshana Sanjeewa and Nimal Algewatta)