---
A Green party heavyweight from the Colombo district – by the way, his name too was proposed for the secretarial post of the Greens-led alliance – was having a serious discussion with several party men the other day.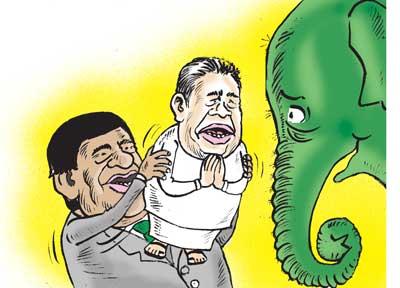 Their focus was on how to give a new life to the party so that it would be able to make a good showing at the upcoming general poll. They all sounded down in the dumps that some members had done irreparable damage to the party by making irresponsible public statements.

They all also agreed that they should find candidates who could afford to spend lavishly on the campaign.

At this stage, one of them pointed out the need of finding a dynamic candidate for Rajarata, now a stronghold of Pohottuwa – who should be a man of means and a radical character whose advent could make a sensational impact on the electorate.

The Colombo heavyweight immediately proposed a person who could fill the bill – 'Haal Raja' (Rice King) hailing from the family of the former Number One.

The Colombo Green heavyweight had proposed the name of the 'Haal Raja' as a candidate for Rajarata because he had already known that the latter was nursing political ambitions.

Some of them openly wondered whether the 'Haal Raja' would consider accepting the Green party ticket given his loyalty to his political sibling. Nevertheless, they all agreed that Colombo Green heavyweight should to meet the man with the proposition and the latter agreed to take the bull by the horns.

The outcome of the meeting is being eagerly awaited by the interested parties, these days, they say