---
This is a story related to our country's gentlemen's game. Former top national willow wielders were among those who participated in a meeting held the other day at a top official residence to discuss the country's gentlemen's game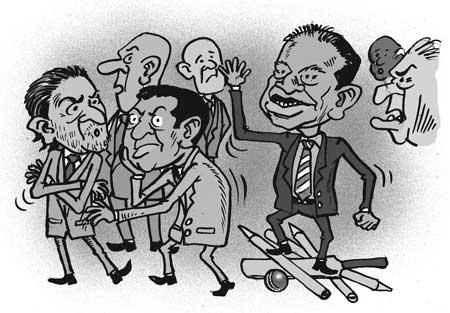 Number Two who chaired this meeting announced the government decided to suspend the proposed stadium project at Homagama.

The views expressed at this meeting by our former stars of the popular game like Mahela and Sanga were well received, they say.

Meanwhile, the presence of a former big gun of the body controlling the popular game who, by the way, had been debarred from the body's activity by the ICC, raised frowns and eyebrows. This character even delivered a big lecture on the ways and means of uplifting the game. Our former stars of the game quietly studied the carpet designs while this lecture was on. However, following the meeting, a protest had been lodged for allowing the debarred character to deliver a talk.

By the way, it came as a surprise to most present that those who made the protest against the 'debarred one' happened to be his erstwhile colleagues now said to be at loggerheads with him.

By the way, another round of cleansing of the body controlling the popular game is on the cards no sooner the general polls are over, they say.