---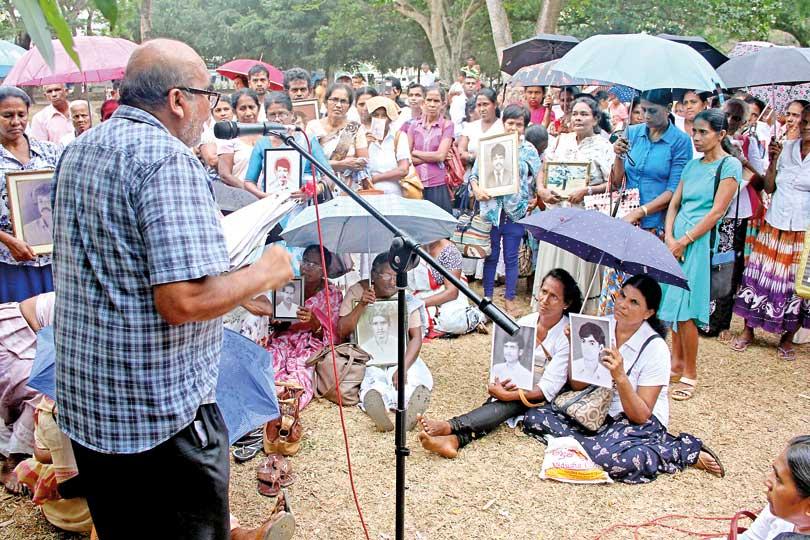 Stories about the missing when revealed moved those at the gathering (pix by Pradeep Dilrukshana)

'The Missing Lovers Day 2020', an event organised by the Families of the Disappeared (FOD), was held on February 14, Valentine's Day. It provided a platform for people who were still holding on to the love saved for their loved ones, who disappeared from their lives, before they got an opportunity to openly grieve and share their thoughts publicly.
On a day where people around the world celebrated love, with their loved ones, more than 1000 people from various districts of the country gathered around Vihara Maha Devi Park that evening to show the world how their love was snatched away from them many years ago.
Many distinguished guests who graced the event included Hanaa Singer, the Resident Coordinator of the United Nations, Sri Lanka and other officials from the American Embassy of Sri Lanka. The event commenced with some sentimental music by singer Jayatilake Bandara, which truly brought out feelings of love and hope in these family members. The event helped them commemorate the eternal love for their lost ones. People from the main districts of the country such as Galle, Matara, Hambantota, Batticaloa, Kalutara, Colombo, Kurunegala, Gampaha, Matale, Kandy and Kegalle joined hands with the organization, FOD with the intension of seeking justice for their missing loved ones.
---
They are planning to carry on the fight till justice is met for their families
Most of these families are left without a breadwinner
We want to claim the death certificates with the correct causes of death
---
We still have Hope
"I lost my parents, my three brothers and my sister in 1989. My mother was 8 months pregnant when she was brutally killed. I was at a relative's place that day and when I returned home I saw that my house had been burnt down with my family members inside. I was left with my two younger sisters who were 3 and 7 years of age at the time. The people who came to my house to kill them had threatened the relatives to bury the bodies before 6pm. It has been 30 years since then and no one knows why they did this to us and who did this. People say it's because of the JVP incidents. We never got anything apart from that Rs.50, 000 we got those days from the then Government at the time. They were so inhumane to kill the baby that was in the womb of my mother. We want to know the reason behind this," K. Renuka from Kosmodara lamented.
"The Government, which was prevailing at the time, needs to accept the fact that these killings and sudden disappearances took place in the country and they need to do justice by providing us with the required compensation. We want to claim the death certificates with the correct causes of death. Most of these families are left without a breadwinner and most of the parents of the victims are in their declining years and the majority of them are bed-ridden. My wife was only 28-years-old when she was 'taken' and we have been suffering from this loss for the past 30 years. We are unable to go out and socialise with the rest of the society. Even our relatives ignore us due to this. There are similar families in the north and the south which experienced the same pain. I am fighting on behalf of everyone," said Ashoka Gunatillake, from Gampaha affirmed.
---
My wife was only 28-years-old when she was 'taken' and we have been suffering from this loss for the past 30 years - Ashoka Gunatillake
---
Rohitha Ranatunga was only four years old when he lost his father. "That was 1989. He was taken by an unknown group while he was working in the tea estate and rearing cattle. We were told that he was taken to record a statement. We still do not know whether he is alive. I have gone to so many places with my mother in search of him. Even though we got a death certificate, we never saw the remains of my father. We are still waiting till he returns home. Today, we came here to show them our pain and we are expecting at least some compensation to be paid to us so that we can continue with our lives," he added.
Somawathie from Tangalle recalled, "I lost my brother in 1989. He worked as a mason. He had been stopped at a checkpoint and they had taken him in to custody. He never returned home after that. We never saw his body after that. My mother fell sick, thinking about my brother's disappearance and she passed away.The rest of the family also deserted me due to this. My brother was the only one who looked after me and after I lost him I am all alone in this world. Currently I do not even have my own house to live in. I am expecting at lease the relevant officials to build a house for me. We only received a temporary death certificate which does not seem valid. I would like to know what happened to my brother because I have lost all hope now, since it's been 30 years".
Ganesan, from Monaragala, is a father of four. "My son was at home right after his A Level Exam, in 2008. He was just 20 years old. He went missing all of a sudden and we went to many police stations to lodge complaints. This is the 14th occasion that I am coming for a meeting like this in Colombo. Around 9 young boys went missing in our village that year. We still look for him every day. We joined this organization with some hope in seeing his face again. I still hope that my eldest son would return to me. We carried out many religious sessions, at Kovils even, to find him, but there is no hope," said Ganesan.
Along with many others that spoke to Daily Mirror, Arumugam from Monaragala said "I lost both my sons in 2009. They did brick-cutting for a living. A gang of 8 or 9 armed men had come in the night, in a Jeep and people say they were wearing black attire. My daughter had seen them assaulting her brother. It was not that far away from my house. We immediately rushed to the Pottuvil Police Station and lodged a complaint and they promised us that they will find him. But nothing has happened thus far. We went to the Human Rights Commission as well to report this tragedy. We are pleading with them to find my sons".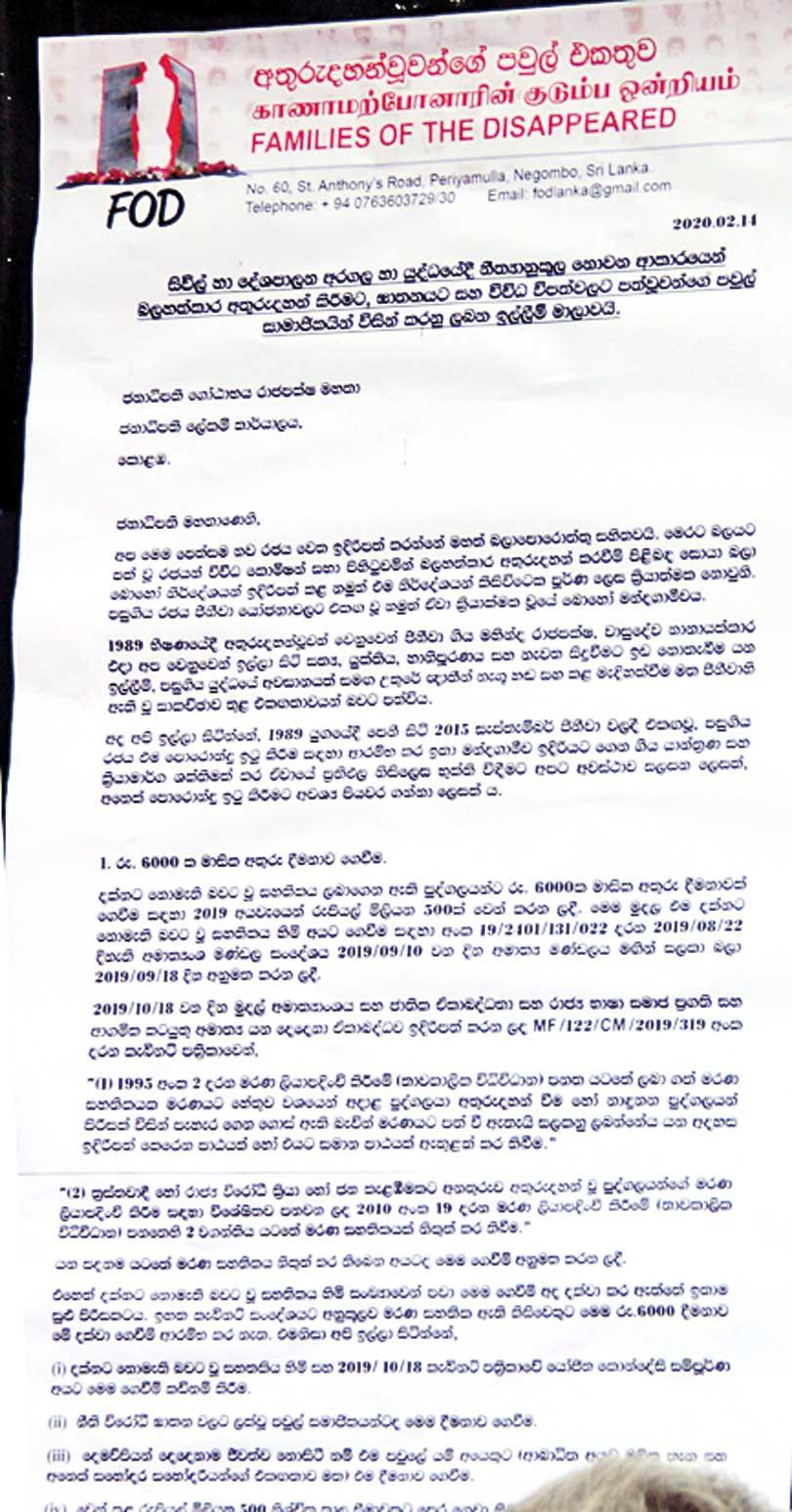 Rita Kuruppu Arachchi and Anuradha, a mother and a daughter from Pilikuththuwa, participated in this silent protest with much hope. "My husband was just 37 years old and my daughter was only 11 years old. We were all sleeping that night. This was the year 1989. A gang of men invaded my house and said that they wanted to check our IDs. The time was exactly 1:15 in the morning. I begged them not to hurt my children. They forced my husband to come with him. We still do not know who did this and why. They paid only Rs. 50,000 from the Presidential Secretariat and that is not enough to maintain my family comprising three children. We are having our share of land and family issues. I had to face the world alone as a mother of three. I await every day till he returns home to me. We never saw a body, to have the assurance that at least he is dead and to have an alms giving on behalf of him. All my children were psychologically affected because of this and they did not have a proper education as well. Now all three are married but their families are broken and I feel so helpless. I beg the relevant officials to help me build a house and to move away from this village where my husband was abducted," Rita's eyes misted over at the memory of her spouse.
---
Even though we got a death certificate, we never saw the remains of my father. We are still waiting till he returns home - Rohitha Ranatunga
---
A petition to President and Premier
"We have had two similar events before at the Dutch Hospital, Colombo which provided the opportunity for so many mothers to present their own short stories, songs, letters and poems about their grief, to share their cherished memories and undying love for their lost ones to the world. Our main intension today is to meet the President and the Prime Minister and hand over to them a petition which was signed by the participants at the event. We are planning to carry on the fight till justice is met for these families. We were given false promises saying that these families will be given compensation and the truth will be revealed soon.
So many individuals and families that had been affected by the 1989 revolts and also during the Sri Lankan Civil War and several other political and civil incidents, participated in today's protest and I just want to say that we still love and celebrate those who went missing, and the love towards them has not gone missing. We like to remember this love in our hearts with respect and to bring justice to these families. Opening of the Office on Missing Persons (OMP) and several other proposed mechanisms along with the Office for Reparations have made this journey towards justice easier. The demanded compensation has to be obtained through this continuous struggle," Britto Fernando, President of the FOD said while speaking to Daily Mirror.
According to the petition issued by the FOD, they are demanding:
A compensation of Rs.6000 monthly allowance for these families of the disappeared.
A compensation amount of Rs.2, 000,000.
Providing of Government employment for the affected family members.
Providing of houses and lands to the families of the disappeared.
Strengthening the activities and processes related to the OMP.
It was an evening which amplified the unheard stories of these families, related to the forced disappearances that took place in our country during different eras. Would justice be served on the people who have disappeared?