---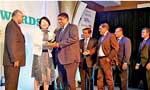 Sri Lanka Telecom (SLT), the national ICT solutions provider proved to be one of the strongest business entities when it was awarded the prestigious 'Taiki Akimoto 5S Awards including; the Merit Award for t he Service SectorLarge, Merit Award for the "Best Efforts i n Public/ Private Partnership"-CSR Awards 2014 categories and three Certificates of Compliance awarded to SLT Regional Offices Chilaw, Kotte & Kurunegala for the Service Sector-Small category at t he recently conducted annual Taiki Akimoto Awards ceremony by t he Japan Sri Lanka Technical and Cultural Association (JASTECA) Awards ceremony.


The Taiki Akimoto 5S competition is an annual competition organized by the Japan Sri Lanka Cultural Association (JASTECA) to recognize and reward the overall performance excellence of organizations and strictly evaluates applicants upon a broad range of criteria as per 5S standards.

"This competition made a remarkable change in the appearance, productivity and attitudes of the staff at SLT which was clearly visible to the entire organization. With the implementation of 5S we have seen a significant improvement in staff morale and confidence building towards achieving the corporate goals," commented Lalith De Silva, the Group CEO of SLT.

"The entire organization, staff and management alike were taken over by extensive efforts, t o convert our workplace into an even more efficient entity, relentlessly focusing on adding value to t he activities we perform each day. The sheer dedication and keenness shown by our team members was very encouraging as it has allowed us to enhance the quality of our services".Meanwhile, the ensuing business synergies that arise from this collaborative effort widely complement the customer focus on each company within the SLT Group while also rewarding increased productivity within the Group.

Employee engagement has become a top business priority today for any organization. In the growing economy, business leaders expect t o have a highperforming workforce essentially for growth and survival. SLT has recognized early t hat a highly engaged workforce can increase innovation, productivity, and bottomline performance while reducing costs related to hiring and retention in highly competitive markets. Further, the company has also aligned their strategy in line with the national goal of regional expansion and digital inclusion for all Sri Lankans.

"Over one hundred and fifty years spent i n connecting people from one end of the island to the other has given Sri Lanka Telecom a deep understanding of Sri Lankan lives - Sri Lankan ambitions - Sri Lankan dreams. This is why we have placed such great emphasis on being a company that stays relevant to the people we serve, one that keeps ahead of its own industry standards and uses the best global practices as its benchmark. A company, in short is willing and able to intelligently evolve," added De Silva.