---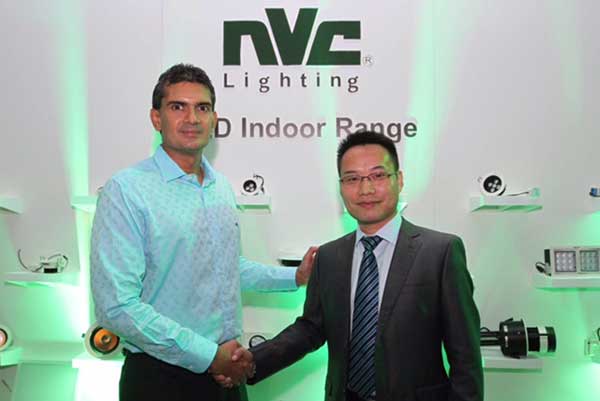 From L- R: Pravir Samarasinghe, Group CEO and Director of Overseas Realty (Ceylon) PLC and Realty Management Services (Pvt) Ltd with Alex Xu, General Manager – Overseas Operation of NVC Lighting Technology Corporation
NVC lighting, China's largest lighting manufacturer launched its innovative product line in Sri Lanka last week. NVC is exclusively distributed by Realty Management Services (Pvt) Ltd, (RMS) a wholly owned subsidiary of Overseas Realty (Ceylon) PLC, the largest listed Property Company and the owner, developer and manager of the World Trade Center, Colombo. NVC Lighting comprise of a broad product portfolio ranging from indoor, outdoor and decorative lighting coupled with a vast range of LED lighting solutions. The colourful launch event held at the Havelock City Clubhouse was graced by over 250 invitees ranging from Contractors, Consultants and Developers. The General Manager for Overseas Operations of NVC Lighting was also amongst the NVC representatives.

NVC Lighting Technology Corporation is listed in the Hong Kong Stock Exchange and is the largest lighting solutions provider in China with sales totaling over USD 1BN in 2013. The Company has 6 established production sites and 3 Research and Development Centers in both China and the United Kingdom. The R&D center and the sales office in the United Kingdom enables NVC to offer tailor made solutions to the requirements of the international markets. NVC has a presence in over 50 countries in North America, Latin America, Australasia, Middle East, Asia and Africa. In China, NVC has more than 3,000 dedicated outlets distributing NVC branded lighting products. With its extensive R&D capabilities, NVC has been successful in providing innovative solutions to all lighting requirements with energy saving and environmentally sound project designs.
NVC products are manufactured to international standards meeting both IEC and BS. With innovative design skills backed by the technical expertise, NVC Lighting is acclaimed for key lighting projects in China which include 2008 Beijing Olympic Games, the 2010 Guangzhou Asian Games, and the 2010 Shanghai World Expo amongst many other projects. Key international lighting projects include the 2010 South Africa FIFA World Cup, Sheraton Hotels & Resorts in Brazil, Hilton Hotels Abu Dhabi, Shopping malls in New Zealand, Qatar, UAE, and International Airports in South Africa, Mumbai and Mauritius.

NVC is a proud recipient of the prestigious China Innovation Red Star Award, the Country's highest award for product innovation and has been ranked No. 1 in "Chinese Lighting Industry" and as China's most valuable brand by the World Brand Lab. NVC not only offers lighting products, but also solutions to all lighting requirements. Having many years of experience in the manufacture of lamps and luminaires, NVC is able to advice its customers on best use of lights fulfilling their needs for a good lighting design. The wide product portfolio of NVC enables a flawless match with varying requirements of the customer.

RMS, the exclusive distributor for NVC products in Sri Lanka is a total real estate solutions provider. RMS is the largest Facilities Management service provider in Sri Lanka managing over 4 MN sq.ft of built up space in Colombo. RMS has been recognized with awards and accolades for its facilities management of the iconic World Trade Center, Colombo the recipient of Gold Awards recognizing WTC for the most energy efficient Commercial Building conferred by the Sri Lanka Sustainable Energy Authority in 2014 and 2010 and by Ceylon Electricity Board in 1998. The WTC is also the first Gold Certified Green Building and is the first to receive the Gold Certification under existing building category. With a diverse portfolio, RMS offers services ranging from Agency, Consultancy, Energy Management, Development and Project Management to Trading in quality building materials.
Speaking at the event, Group CEO and Director of Overseas Realty, Mr. Pravir Samarasinghe stated that "We are very pleased that NVC the largest lighting solutions provider and No. 1 Brand in China has partnered with Realty Management Services to enter the Sri Lankan market with innovative high quality lighting designs and solutions. NVCs wide product portfolio and designs and solutions combined with our commitment to excellent customer care and support will no doubt add value to our customers and transform the lighting industry in Sri Lanka."