---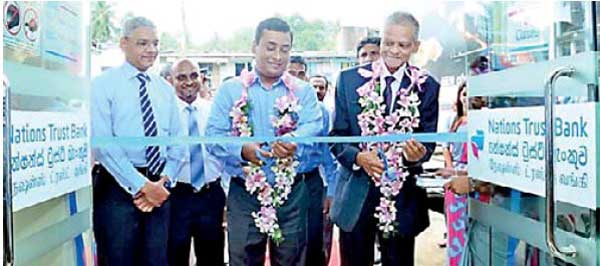 One of the fastest growing banks in Sri Lanka, Nations Trust Bank (NTB) opened its newest branch in Mawathagama recently, offering a wide array of financial services to the people of the area.With the opening of this branch, the branch network of NTB now extends to 87 locations across the island. The bank's market positioning of being the benchmark of customer convenience is ably supported by a host of financial products and services offered to a wide customer segment.

NTB's entire branch network is open 365 days a year with extended banking hours and these pioneering concepts have been validated by the customer demand for convenience, which is now becoming the standard across the industry. The new branch is located at No. 56, Kerunegala Road, Mawathagama and is open 365 days a year – on weekdays from 9 a.m. to 6 p.m. The bank is also open on weekends, Poya days and other Bank holidays from 9 a.m. to 12 p.m.With the opening of the Mawathagama branch, NTB is now in operation in Kurunegala, Wariyapola, Kuliyapitiya and Giriulla in the Kurunegala District. The bank opened this latest branch in Mawathagama with the aim of featuring the evolving needs of the modern customer.

The Mawathagama branch offers a host of retail banking services, such as current and savings accounts, children's savings accounts, fixed deposits, investment plans and remittance services. 'Nations Salary Saver' is a bundled product designed to attract the regular salary credit of employees with a host of features such as rate concessions on personal, car and housing loans, fee waivers on debit and credit cards and pre-approved overdraft and leasing facilities.

The bank's highly specialised customer segmented offerings such as Private Banking and Inner Circle will also be offered to the customers in Mawathagama.
Commenting on the new branch opening, Deputy General Manager Internal Audit Arthur Fernandez stated, "We are happy to open our 87th branch in Mawathagama, which will be our fifth branch in the Kurunegala District. Our strategy is aimed at increasing the bank's physical footprint and building a strong digital banking proposition.

We strategically expanded our branch and ATM network across the country this year and we are planning to open a significant number of new branches in next three years. The opening of this branch will facilitate all retail and business banking solutions, which are necessity in a fast-growing city like Mawathagama."The new branch will support the business community with the Business Banking offering which is coupled with a rewards scheme offered to Platinum and Gold business customers, allowing them to earn rewards points based on the transactions made through their business account.