---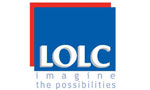 The diversified conglomerate, Lanka Orix Leasing Company PLC (LOLC) increased its group net profits by a staggering 261.4 percent to Rs. 1.59 billion for the quarter ended September 30, 2014 (2Q15), helped by the aggressive lending drive that amounted to a massive Rs. 25.1 billion.
The earnings per share rose to Rs.3.34 from 92 cents a year earlier.

The financial statements released for the six months ended September 30, 2014 (1H15) show its three financial services companies Lanka Orix Finance PLC (LOFC), Commercial Leasing & Finance PLC (CLC) and LOLC Micro Credit Limited capitalizing on the prevailing low interest regime to disburse the massive funds secured in the recent past.

During the 1H15 the group's lending portfolio grew by 41 percent Year-on-Year (YoY) and leasing and hire purchase portfolio grew by 8 percent YoY to Rs.76.5 billion and Rs. 39.2 billion respectively.Despite the aggressiveness to expand the loan book, the company gave its commitment for rigorous recovery efforts as the provisioning for bad and doubtful debts fell by 65.5 percent YoY during the 2Q15 to Rs.187 million and 22 percent YoY during the 1H15 to Rs. 1.1 billion.Deposits grew by Rs.3.2 billion but the group secured loans – both short and long term amounting to Rs.6.6 billion, the group cash flow statement showed.

In September, CLC secured US $ 15 million (Rs.1.98 billion) – 5-year term loan from the German-based development financier, DEG to support SME lending.
LOLC recently announced a debenture issue to raise Rs.5 billion at 9 percent to be opened on November 18.Meanwhile, for the 2Q15, interest income grew by 26.3 percent YoY to Rs.7.7 billion with the interest expenses falling by 15 percent YoY to Rs.3.4 billion due to prudent management of the asset and liabilities by the group in the falling interest rate regime.
Direct expenses without finance costs rose 16.7 percent YoY during the quarter to Rs.1.12 billion while other operating expenses increased by 21.4 percent YoY to Rs.1.7 billion. Meanwhile, for the 1H15, the LOLC group posted a net profit of Rs.2.5 billion (Rs.5.29 EPS), up 316.7 percent on an interest income of Rs.14.5 billion.

This was led by the financial services segment which made a profit before tax of Rs.3 billion, up 66.67 percent from a year ago.
LOLC group is known for its strategy of growth through acquisitions, and during the period under consideration, the group made another acquisition buying 60 percent stake of Cambodia's fifth largest micro-finance company, Thaneakea Phum Cambodia Limited for a consideration of Rs.2.6 billion.

Meanwhile, Bangladesh-based world's largest micro financing provider BRAC which invested in a 56.6 percent stake in BRAC Lanka Finance PLC (former Nanda Investments and Finance PLC) in June 2013, exited the business this September selling its entire stake to CLC in a deal worth Rs. 608 million.
Further, during the 1H15 LOLC acquired 51 percent stake of Sun & Fun Resorts (Private) Limited and 60 percent stake of Ceylon Roots (Private) Limited for a consideration of Rs.205 million and 48 million respectively.Speaking about the insurance segment's performance the company said, "LOLC Insurance Co. Ltd. (LOIC), the fully owned composite insurer of LOLC has performed extremely well in the current year with Rs.1.3 billion revenue, a 61 percent growth over last year". LOLC's hospitality sector unit Browns Hotels and Resorts Limited last week signed an agreement with American hotel and leisure company, Starwood Hotels and Resorts Worldwide, handing over the management of its Kosgoda beach resort to the latter.Leisure sector however incurred a loss of Rs.310.4 million extending from a Rs. 257.3 million loss during the same period last year.As of September 30, 2014 R. M Nanayakkara had a 36.299 percent stake in the company followed by 30 percent stake by Japan's Orix Corporation.