---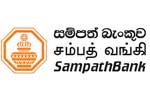 Sampath Bank PLC group posted a net profit of Rs.1.33 billion (Rs.7.94 a share) for the quarter ended December 31, 2014 (4Q14), up 23 percent from a year ago despite its core banking operations barely a showing a growth, interim results showed.


Interest expenses declined 26 percent year-on-year (yoy) much faster than that of its interest incomes (declined by 16 percent) as the much of its longer term deposits take time to get re-priced under lower interest rates. Thus the net interest income edged up a paltry 0.7 percent yoy to Rs. 4.3 billion.
The most notable positive contribution to profits came from the significantly lower impairment charges as the collective impairments for the quarter were less as much as Rs.1.5 billion compared to its corresponding quarter last year.

Sampath Bank was amongst the highest hit banks from the fall in the global gold prices in 2013 through 2H14, and at the height of the gold crisis Sampath's exposure to gold lending was as high as 25 percent (Rs.55 billion), after People's Bank (34 percent) and National Savings Bank (31 percent). The group's pawning exposure as at December 31, 2014 was seen just under 8 percent or Rs. 24.6 billion.

Meanwhile, Sampath Bank group increased its non-fund based incomes by close to 25 percent yoy to Rs. 885 million. This is an area where all banks have put their thrust since interest rates started to fall and margins narrowed.Sampath Bank's net interest margin declined to 3.95 percent from 4.39 percent a year ago, but it increased the return to shareholders (return on equity) to 16.35 percent from 12.88 percent.

During the 12 months to December, the bank opened 8 branches bringing the total number of branches to 220. However, the return on assets rose to 1.69 percent from 1.29 percent.Total operating expenses rose by 19.7 percent yoy to Rs. 3.6 billion amid the financial group's biggest single expense, the personnel expense rising 8.4 percent to Rs.1.35 billion.

Despite lackluster private sector credit growth (7.5 percent in 2014) the bank expanded its loan book by 14.5 percent to Rs.310.5 billion during the year. This was despite improving the bank's asset quality further to 1.93 percent (gross non-performing loans) from 2.68 percent a year ago.Import loans, both rupee and foreign currency rose by over 75 percent to Rs.37.5 billion in 2014.Both Tier I and Tier II capital adequacy ratios declined to 8.83 percent and 13.62 percent respectively due to growth of the risk weighted assets.The bank is likely to opt for fresh equity injection or corporate debt or both to sustain growth advances, which is expected to intensify in 2015.

The deposits grew by 13.1 percent to Rs. 340 billion. Sampath Bank which has the third largest balance sheet among private sector banks, grew its asset base by 13.1 percent in 2014 to Rs.432 million.Meanwhile for the financial year ended December 31, 2014 the banking group grew its net profits by nearly 45 percent to Rs. 5.3 billion (Rs.31.35 per share) due to more or less the similar reasons that influenced its 4Q results.

Sampath Bank is a victim of the 25 percent super-gains tax imposed by the interim budget, as the tax has a retrospective effect.As of December 31, 2014 high net worth investor, Dhammika Perera owned Vallibel One PLC held 14.95 percent stake being the single largest shareholder, followed by Indra Traders' owner, YS H I Silva – 9.98 percent and Employees Provident Fund – 9.97 percent.Dhammika Perera is also the Chairman of Sampath Bank PLC.