---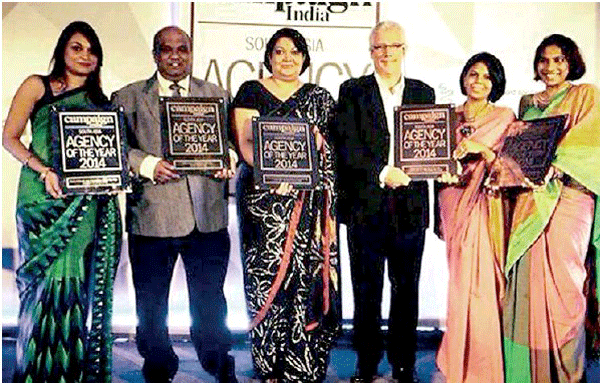 Leo Burnett Solutions Inc. (LBSI) marked yet another milestone in the annals of the Sri Lankan communications industry by winning the most number of awards by a single agency at the Campaign Asia's prestigious South Asia Agency of the Year Awards 2014.

LBSI and its PR arm Arc Worldwide won gold for Best Corporate Communications Team of the Year and a bronze for PR Agency of the Year. Sithum Walter of LBSI was awarded gold as the Young Achiever of the Year. The agency was recognized with silver for the Best Digital Agency of the Year and also bagged a bronze for Creative Agency of the Year.

The Campaign Asia awards show took place in Mumbai, India and is one of the most highly anticipated advertising events in the region.Leo Burnett is the first agency from Sri Lanka t o win gold i n the Corporate Communications category. The agency also saw its Managing Director, Ranil de Silva being placed as a finalist for South Asia Agency Head of the Year, its Chief Creative Office, Trevor Kennedy awarded a finalist for South Asia Creative Head of the Year. The agency was also placed as a finalist in the South Asia Talent Management Team of the Year. This fitting finale will be celebrated by all Burnetters in Sri Lanka who are making preparations to welcome the team home and celebrate their success at the South Asia Agency of the Year Awards 2014.

Commenting on Leo Burnett's success at the South Asia Agency of the Year Awards 2014, Ranil de Silva, Managing Director, Leo Burnett Solutions Inc., stated, "Today is a very special day for us and we are truly honoured to be recognized in numerous categories at such a prestigious show. These awards are a result of the passion, dedication and hard work of our team and I am truly proud of all our Burnetters for their efforts. These are truly exceptional achievements for us as an agency. We look forward to working with our clients and partners, as we strive to continuously make our mark in Sri Lanka's advertising and marketing communications industry."

For more t han 20 years, t he Agency of the Year awards have celebrated t he achievements of the region's advertising industry, recognizing strong leadership, creativity and innovation, stellar new business performance, t he development of talent in the region, and contributions to the industry. The aim of these awards is to reward the industry's top performers in South Asia, whilst giving them the chance to shine within the local market and the region, and network with leading professionals from the Asia-Pacific.Leo Burnett celebrates its 15th year of operations in Sri Lanka.