---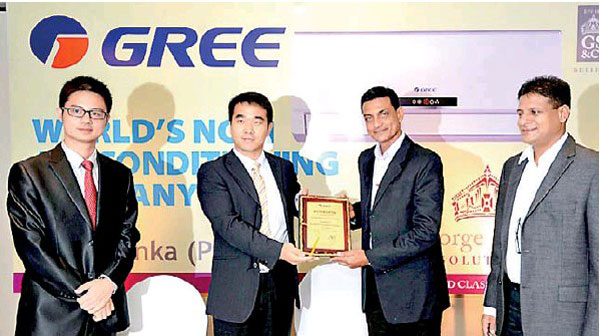 Gree Lanka Private Limited, a fully-owned subsidiary of George Steuart Solutions, has become a formidable contender in the air-conditioning segment. A well-known Chinese brand, Gree is the preferred choice in air-conditioning solutions amongst construction professionals globally. In Sri Lanka, Gree Lanka (Pvt.) Limited caters to the needs of all residential, commercial and industrial properties.

Gree is the largest manufacturer of air-conditioning systems in the world and is fulfilling a long-felt need for professional air-conditioning systems in the local market. Gree's principal partners - Gree Overseas Sales Company Vice General Manager Eric Zhang, General Manager Asia Pacific Bob Yang, Sales Manager Phil Lin, Sales Manager Echo Lin and George Steuart Solutions CEO Viraj Pathirane were present in Colombo, recently at a high-profile promotional event held in the city.

Commenting on the presence of the Gree brand in Sri Lanka, Zhang said, "With the progressive growth in Sri Lanka's economy and the construction boom that's currently taking place, Gree sees great opportunity and is proud to be a part of Sri Lanka's progress. Since 1991, Gree has been developing comfort technology that breathes new life into homes, offices and industries, backed by unlimited capital investment in sustainable technology.Gree air-conditioning systems combine intelligence and energy conservation and emission reduction features in its product range at all times. For over two decades now, we have served over 100 million customers across 100 countries to stay cool where ever they live, work or play. We are confident that as the leading air-conditioning brand in the international market, Gree will continue to have a similar impact in the Sri Lankan market too.

China and Sri Lanka have a strong history of commerce and trade and Gree is proud to strengthen these valuable ties further. Sri Lanka is undergoing massive infrastructure development currently and Gree Lanka is ideally poised to play a key role in empowering the new landmarks being constructed around the country with our superior world-class air-conditioning technology." Pathirane added, "Gree Lanka Private Limited is proud to be part of Sri Lanka's new tomorrow which is fast taking shape. Backed by the sound credentials of the number one air-conditioning Chinese brand, Gree Lanka is making a mark as a professional and advanced technology provider of air conditioning products and solutions. Architects, interior designers and other construction professionals appreciate the world-class performance that our products offer along with consistent top-level performance.

Gree's ductless systems and high-tech air filtration features expel energy waste and help eliminate bacteria and viruses – ensuring a comfortable, healthy and productive environment. Sustainable ecological solutions are a prime concern amongst construction professionals in Sri Lanka and Gree, with its long history of green innovation, is amongst the most energyefficient and environmentallyfriendly systems in the world today.
We are confident that the company will rapidly rise to the forefront of the industry as the preferred choice in airconditioning systems for homes and offices. Constantly vigilant about synergistic partnerships, George Steuart Solutions is privileged to partner a worldrenowned brand such as Gree as together we revolutionize new frontiers of expansion and delivery."