---

Sri Lanka's largest online travel company, findmyfare.com announced a promotion with Visa, the leading global payments technology company which connects consumers, businesses, financial institutions, and governments in more than 200 countries around the world. The tie-up is part of findmyfare.com and Visa's effort to provide customers with a convenient, fast, secure and simple payment option that encourages customers to embrace the cost effectiveness and convenience of online shopping. To celebrate the launch of the promotion, the findmyfare.com team hosted a cocktail event at the Kingsbury Hotel, which was attended by the company's loyal customers, airline agents and travel partners.
The promotion will extend until September 2015 and for its duration, a variety of incredible deals will be offered to all customers using a Visa credit and/or debit card issued by banks in Sri Lanka. Customers using Visa cards to make online payments will be able to enjoy a variety of special benefits, including a 5% discount on base fares for all flights booked via findmyfare.com during the promotion period. Visa cardholders will also be able to benefit from exclusive monthly deals that feature a unique destination each month. Dubai has been selected as the 'Visa Destination of the Month' in January 2015 and customers can get a 20% discount on base fares for all flights booked to Dubai during the month of January. Visa cardholders can also benefit from a world of offers across categories such as shopping, dining and entertainment at the 20th edition of the Dubai Shopping Festival which Visa is a partner of.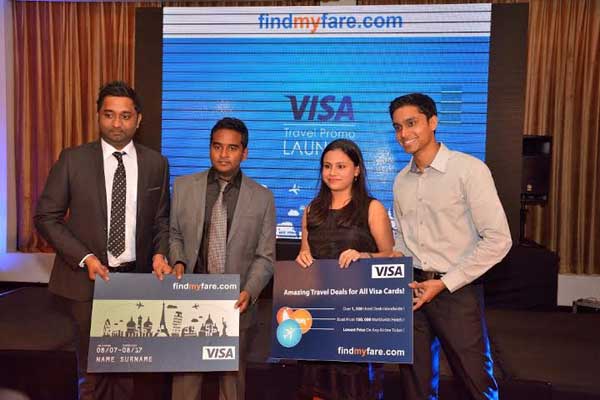 With growing internet and mobile penetration, online transactions are on a rise across the world. Online transactions provide the convenience to book tickets, make bill payments and pay mobile bills etc. at the click of a mouse button – anytime and anywhere.
Commenting on the promotion with Visa, Thushan Shanmugarajah, Director Marketing, findmyfare.com said, "We are extremely proud to partner with Visa, the world's leading payment technology company. Findmyfare.com is the first online travel company in Sri Lanka and we have been a pioneering force in the e-commerce arena which is still evolving. One of the greatest obstacles we face is that many customers still don't have faith in the process of buying online. We want to change this, and we hope that by partnering with Visa, more of our customers will be able to take the leap from traditional cash only payments to online payments which are simpler, faster and more convenient. Many of the partner banks we work with are also supporting this initiative and have joined us in our efforts to encourage customers to shop online. If more customers trust the process of making a payment online, the number of online transactions will increase and this will have a positive impact on the e-commerce industry at large whilst simultaneously contributing to the county's commercial and economic development."
Findmyfare.com is Sri Lanka's leading online travel company which works closely with international airlines and over 150,000 hotels worldwide, to provide travellers with the very best travel deals and offers. The findmyfare.com website enables customers to compare prices of various airlines and hotels and make quick and easy bookings and payments online with the click of a button. The company was launched in 2012 and has in a very short period of time gained a reputation as an innovative service provider and problem solver in the travel industry.
http://www.findmyfare.com/Offers/visa-offer/dubai-december-offer.php