---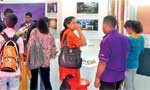 A preview of an exciting new product range soon to be introduced to the local market, will be part of the offering to visitors to the Asian Paints stall at Architect 2015, the annual exhibition of the Sri Lanka Institute of Architects.


Categorised as 'Smart Care' by the coatings giant, the new range comprises of a series of cutting-edge products in the form of admixtures, sealants and Nano-technology based water-proofing products that ensure surfaces to be painted are protected from the ill-effects of moisture.

"This is an all-new product category that we are very enthusiastic about," said Jacob Kuruvilla, Director/General Manager of Asian Paints (Lanka) Limited. "We felt that the Architects' Exhibition is the perfect occasion to provide the public and the construction industry with a preview of this range and its capabilities. This is also in line with our effort to give visitors to our stall a new experience each year."

Asian Paints will also display two other product ranges at Architect 2015, which takes place from 19th to 22nd February at the BMICH. These include the brand's extensive portfolio of special effects paints – Royale Play, Royale Play Metallics and Royale Play Textile; and 'Aquaris' water-based polyurethane (PU) wood coatings from the Italian manufacturer Renner Italia S.p.A. Traditionally one of the most visited at the Architects' exhibition, the Asian Paints stall makes a special effort to give visitors an opportunity to experience products by trial and to understand colours and their interplay. In 2013, the company offered visitors the opportunity to use 3D video projection mapping, an exciting new projection technique, to change the colours and textures of walls, furniture and fittings in a created living space to demonstrate how its products can be used creatively to best effect.

The Asian Paints product portfolio encompasses a large spectrum of coatings and ancillary products in Decorative Paints, Wood Finishes, Automobile OEM coatings and refinishes, Marine, Road Marking Paints, and industrial coatings. Asian Paints has one of the largest R&D facilities in the industry with multiple laboratories devoted to cutting-edge research. The ISO 9001:2008 and ISO 14001:2004 certified Asian Paints (Lanka) represents the brands Apex Ultima, Apex, Ace, Royale with Teflon, Classique, Premium and Decora in the Emulsion and Enamel Paint categories. The company also produces Skim Kote for both exterior and interior, acrylic putty, waterproofing solutions and other primers for different types of paint and the water-based wood finishes from Renner.

All Asian Paints products are guaranteed to have no added Lead, Mercury, Arsenic, Chromium or any other heavy metals.