---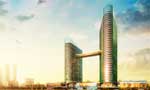 Access Engineering PLC has secured a contract with ITC Limited, one of the largest diversified conglomerates in India, for the upcoming iconic luxury hotel and residences project, ITC Colombo One.


Artist's impression of the proposed ITC Hotel One
The project, which is coming up in the picturesque coastline overlooking the historic Galle Face Green, is the latest addition to the ITC hotel chain. ITC Hotels, India's largest luxury hotel chain with a collection of more than 90 hotels in over 70 destinations, is a part of ITC Limited, which is one of India's foremost multi-business conglomerates with a diversified presence in FMCG, hotels, paperboards and specialty papers, packaging, agri business and information technology.

Scheduled for completion in 2018, this development with 33- storey hotel complex and 55-storey apartment complex, will uplift the urban landscape and will significantly serve the Sri Lankan luxury hospitality industry.

The work awarded to Access Engineering PLC principally includes the erection of a diaphragm wall, which is approximately of 700 perimeters length and 21 meters depth from the ground level. This diaphragm wall will be erected utilizing an innovative construction technique, which will be utilized for the first time in Sri Lanka.

Access Engineering PLC, which fosters i nnovation at every given opportunity of its operations, once again brings this cutting- edge technology to the local construction industry with the introduction of Bauer GB 34 Hydraulic Grab, which is a diagram wall grab machine with a maximum hoisting force of 340kn. High closing forces of the shovel in combination of the possibility of multiple grabbing at the trench bottom, result in high excavation rates
Bauer GB 34 Hydraulic Grab machine even in dense and very hard soil strata.

Once the diaphragm wall is built, the earth will be excavated to a depth of 13 metres removing approximately 150,000 cubic metres of soil, allowing pile installation for the construction of the super structure.