---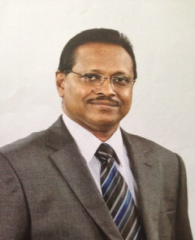 Siyapatha Finance PLC, appointed renowned banker, Mr. Saman Herath as its new Managing Director effective from April 2016
Mr. Herath is one of the most respected professionals in the banking industry, with 35 years worth of experience. Beginning his banking career at Commercial Bank in 1981, he later joined Sampath Bank PLC as an Executive in the Finance Divisionin 1987. Mr. Herath worked his way up the proverbial ladder of the bank's hierarchy until he reached the position of Senior Deputy General Manager of Corporate Banking from which he retired in June 2015. He later went on to take up the position of Head of Branches at Nations Trust Bank. He was also a Director of Sampath Information Technology Systems, a fully owned subsidiary of Sampath Bank and a Director of Lanka Swift User Group(Guarantee) Ltd.
A result-oriented person, Mr. Herath contributed largely to the development of Sampath Bank. He is a fellow member of the Chartered Institute of Management Accounts of UK (FCMA, UK) as well as the Chartered Global Management Accountants (CGMA). Mr. Herath is also an associate member of the Institute of Bankers, Sri Lanka and holds a number of qualifications including, a Diploma in Credit Management from the Institute of Bankers, a Certificate in Asset and Liability Management from the Postgraduate Institute of Management and has also completed a number of courses in General & Strategic Management conducted by institutions such as The National University of Singapore.
Siyapatha Finance CompanyPLC,a licensed finance company fully owned by the Sampath Bank Group, clearly has a number of developments in mind for its future and it seems to have picked the perfect person to help put those plans into action.