---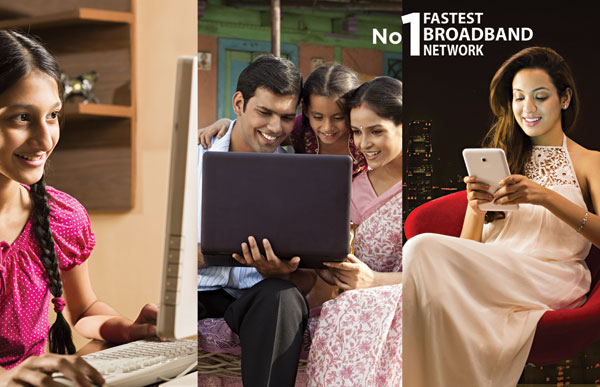 - Unmatched, highest monthly data volumes – up to 2000GBs
- Highest download speeds – up to 100Mbps
- Shared data for multiple devices – on Wi-Fi capable smart devices
- Experience, Enjoy - video streaming, music downloads and online gaming with country's No. 1 Broadband network
Sri Lanka Telecom (SLT), the flagship broadband service provider in the country, emphasized that the company is offering the best value for money broadband offers to internet users in Sri Lanka. The company made this claim after considering the unmatched and highest monthly data volumes it offers to broadband internet users and successfully maintaining the country's lowest per GB (Gigabyte) in the broadband internet market. The company has undertaken several initiatives in the recent past including significant enhancements to its internet speed up to 100Mbps and unmatched data bundle up to 2000GBs.
Mr. Ajantha Seneviratne, Chief Marketing Officer of SLT said, "SLT is actively engaged in enabling to boost the country's potential by increasing availability, affordability, readiness and relevance of ICT with a range of broadband offers. We are truly the No. 1 value for money broadband internet provider in Sri Lanka without any doubt. Because we are providing the unmatched, highest monthly data volumes to our valuable internet consumers enabling their growing digital requirements."
Night time data offer - In keeping with the vision to provide affordable services for all, SLT in 2012 introduced night time broadband offers with free data volumes for the first time in Sri Lanka with additional free usage volumes from 1GB up to 100GB. In 2016, the company significantly increased its "night time data" or "monthly additional free usage" volumes of all the packages and matched both "day time" and "night time" data volumes by adding more free data volumes (GBs).
Speed & Data volume enhancement - Broadband speed enhancement has been done continuously to all broadband packages powered by Fiber, ADSL & LTE technologies enabling the company to offer selected packages with up to 100Mbps download speed in 2015 & 2016. Broadband volume enhancement has been done as an annual practice in terms of package improvement to cater to the ever increasing customer demands. Thus SLT was able to make the claim of the highest volume and fastest Internet provider while providing the best value for money.
On demand data - 'On Demand' data volumes facility or 'Extra GB' facility on Broadband portal is one of the key features which was introduced in the recent past to enable extra GB top-up feature online starting from 1GB onwards. Customers were encouraged to use extra data volumes and top up their GBs via the SLT Broadband Value Added Services portal.
Wi-Fi Hotspots – The Company is currently deploying cutting-edge "carrier-grade" public Wi-Fi technology in Sri Lanka. With the notable increase in smart devices in the market, the company has focused its efforts on improving its services both indoor and outdoor. SLT introduced a range of pre-paid Wi-Fi options to improve user convenience further.
OTT Services platform – SLT launched "FilmHall" streaming services by enabling broadband customers to enjoy high quality video streaming, music downloads and gaming facilities, bringing a cinema experience right to the home.
Visit www.slt.lk/broadband for more information about SLT Broadband packages including Fiber Broadband offers.