---
The sounds of the hustle and bustle of the city die away as you watch the Sun set in an array of orange, pink, and red over the serene emerald-green Beira Lake, which is juxtaposed against the brilliant backdrop of the downtown Colombo city skyline. Then the exquisite distant Indian Ocean coastline appears in your line of sight, basking in the setting Sun's radiant glow.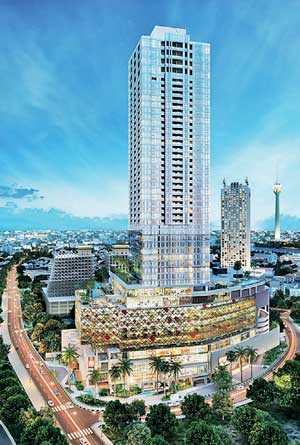 These mesmerizing views no longer have to remain a dream. They can be fully made a reality through the Colombo City Centre, a revolutionary mixed development project by the ABANS Group in partnership with Silver Needle Hospitality that aims to redefine the true meaning of urban luxury living at the very heart of Colombo.
Being an impressive feat of innovative architecture and engineering, the Colombo City Centre, unlike other developments, offers potential investors the opportunity to access everything under one roof, truly making it a place like no other.
Located along Sir James Peiris Mawatha, Colombo-02, this ultra-modern mixed use 47-storey lifestyle centre will feature a contemporary lifestyle retail shopping mall; an upscale hotel operated by Next Hotels – the flagship brand of Silver Needle Hospitality; and opulent apartment residences that will provide a radical take on luxury real estate in Sri Lanka.
Offering awe-inspiring views of the Beira Lake, Indian Ocean, and, at night, the luminous city skyline that inspire both calmness and tranquility, the Colombo City Centre Residences are uniquely designed to accommodate Sri Lankan high-end lifestyles as well as meet the diverse needs conveyed by affluent homeowners today. The Residences possess a wide variety of apartments spanning from 2, 3, 4, and 5 bedrooms with differing sizes of 973 sq. ft. to 4898 sq.ft.
Additionally, residents will be provided with an expansive array of luxurious amenities, which include private access to the infinity swimming pool, state-of-the-art gym, sauna, children's play area, and a Sky Lounge on the 43rd floor for private viewing of the city. Separately demarcated parking facilities, elevator access, and entrances for the mall, hotel, and residences will also be provided. All residents will further receive the exclusive benefit of a freehold title to their apartments.
Moreover, due to the inclusion of the colossal lifestyle retail mall within the Colombo City Centre, residents do not have to step out of the complex to procure entertainment for their family and guests. They also do not have to battle the traffic to conduct any household errands.
Extending over 05 floors, this mall has been designed to provide an enjoyable, one-of-a-kind retail and entertainment experience for brand-conscious, affluent consumers and their families.
The Mall will include a profusion of world-renowned international and local retail brands, an international food court, a 6 Screen 3D Cinema and an extensive family entertainment centre which will possess bowling facilities and a gaming arcade.
Further, the addition of a gourmet supermarket will allow residents to easily conduct their grocery shopping without leaving the complex. The Mall will also feature some of the best restaurants in Colombo that will offer the ultimate fine-dining experience along with delicious cuisines from around the world.
Residents can also put up their guests at the Next Hotel, developed by Silver Needle Hospitality that primarily aims to provide a smart customer-centric approach towards meeting the needs of modern business travelers. Being the epitome of class, luxury, and relaxation, Next Hotel predominantly focuses on providing their guests a truly enriching and unforgettable experience. Along with avant-garde designs, sophisticated services, and technologically-advanced facilities, the Hotel will include opulent amenities such as a cocktail bar, fine dining options, a relaxing spa, and a lush tropical garden with a wooden deck and sun lounge.
Furthermore, the powerfully creative collaboration between world-renowned architecture and interior design firms, Aedas and Gensler, has resulted in extraordinary apartment interiors that are specially devised to help residents de-stress, relax, and unwind. Each apartment will feature a spacious open-plan living, kitchen, and entertainment area that utilizes high white ceilings, engineered timber wood flooring, and sophisticated colour palettes to increase the flow of natural light.
The Italian Caesar kitchen countertops and European stainless steel fixtures together help create the ultimate dream kitchen that can easily accommodate the needs of a family or an active entertainer. An additional concealed wet kitchen will be included in 3-bedroom and penthouse apartments.
Plus, each bedroom will possess stylish pine wardrobes, which will help eliminate clutter, while the Master Bedroom will consist of a magnificent ensuite bathroom complemented with stylish Kohler fixtures.
The Colombo City Centre has been strategically positioned in a fast developing, upmarket location, where some of the best schools, hospitals, shopping arcades, historical landmarks and more are situated just a few minutes away, adding more short-and long-term value for potential investors. Apartment values have also appreciated about 40% since the previous year, due to the Colombo City Centre's mixed development nature. This makes the Colombo City Centre perfect for affluent homeowners and investors who seek good capital appreciation and rental return as well as high ROI on their investments.
Further, there are several integral indicators that make Sri Lanka one of the most sought-after tourist and investment destinations in the world. These include a dynamic multi-cultural society, stable government, strong economic growth, and a strategic geopolitical position. Due to these factors, Sri Lanka, and Colombo possess the potential of becoming an active luxury real estate hub in Asia, which will result in stronger dividends for investors who decide to invest in our region via the Colombo City Centre.