---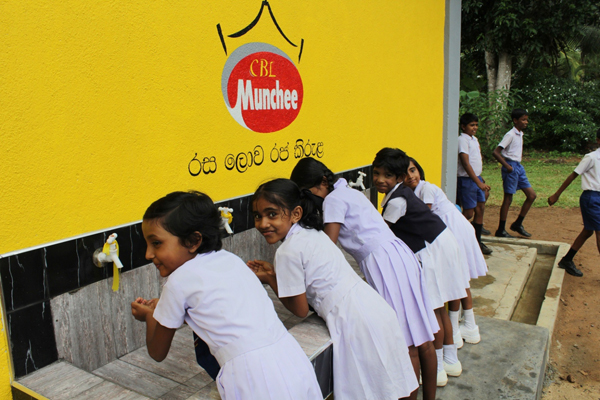 Munchee, the flagship brand of Ceylon Biscuits Limited recently celebrated the completion of its 100th milestone project at Wavegama Kanishta Vidyalaya in Sooriyawewa, Embilipitiya. The company donated a state-of-the-art mathematics lab at the school, which was equipped with desks, computers, books, learning tools and materials that will now aid the students in their efforts to become more confident young learners and mathematicians. The lab is also the most complete and well-resourced facility of its kind in the Sooriyawewa area, and is part of Munchee's long-term efforts to support the needs of local communities and the education of youth across the island.
As pioneers in corporate social responsibility, Munchee and CBL take great pride in implementing sustainable business practises across the group's operations, which provide local communities with basic needs and support at a grass-roots level. The Munchee Samaga Gamata Sarana project was initiated in 2010 and in just six-years; the project has successfully completed 100 need-based initiatives that have uplifted the lives of children, youth and community members across the nation. Munchee Samaga Gamata Sarana is a continuous village outreach and community development initiative that carries out activities in all parts of Sri Lanka every year.
Commenting on the completion of the school's math lab, W.A.K Wijenayaka - Principal said "We are extremely grateful that Munchee and CBL filled this void in the local community, by helping us to build a mathematics lab for our students. Mathematics is an important subject, yet many of our students find it challenging and lack confidence when it comes to independently solving sums and problems. We have no doubt that this lab will encourage our students to embrace mathematics lessons and it will enable them to become more confident learners. We would like to thank the Munchee team for all of the on-the-ground support they provided and all of the hard work that they put into this initiative to make it a success."
Commenting on the project Theja Peiris - Group General Manager Marketing, Ceylon Biscuits Limited said: "The Munchee team recognized the importance of this project as mathematics is an important GCE O-Level subject. We were really touched as parents, students and school teachers all came together and did whatever they could to ensure that the project was completed on time. We are truly proud to have successfully completed our 100th project since Munchee Samaga Gamata Sarana was launched. The entire team puts in a great deal of effort into implementing these activities and projects under the Munchee Samaga Gamata Sarana banner and we have received very positive feedback about the impact that these initiatives are making. The Munchee Samaga Gamata Sarana project model is unique, it provides funding but not necessarily labour, this in turn urges the community to come together and rally behind a cause that will benefit them in the short-term and the long-run. This model ensures that the community feels a sense of ownership and responsibility towards the project. We were also delighted to receive additional support from government officials along with village elders who all collaborated with us to complete the lab."
The Munchee Samaga Gamata Sarana projects, which are conducted by the Munchee sales team with the participation of local officials and community members, strengthen stakeholder relationships and help Munchee to forge lasting bonds with multiple communities. The initiative and projects supported by the programme, promote economic and social value creation by raising standards of living and providing tools, infrastructure and funds that help to uplift and empower communities at large. From building drinking water facilities and systems, to the construction of school buildings, labs and libraries, to the donation of computer labs and the provision of electricity to schools, to the construction of mini bridges and community centres, this programme has enabled communities to become complete, happy and fulfilled.
The project has invested Rs. 34 million to date in communities across Sri Lanka, helping over 100,000 people in need. The first project was launched in Walagama, Kegalle where Munchee built a secure bridge over a deep stream to replace a make-shift log bridge that school children were using and elders were struggling to cross. The new bridge offered a safer option for the community and both school children and elders in need of medical treatment were able to travel over the stream with ease. Another similar bridge was constructed over a railway line in Ratnapura, to ensure that young students could travel to school safely.
Munchee and CBL have a dynamic sales force and they have served as the key drivers of the MGSG project, taking the passion, commitment and spirit of the Munchee brand to Sri Lankans young and old, across the entire expanse of the island. It is through this project that the Munchee team has strengthened the brand's legacy as a leader in CSR, sustainability and consumer care and engagement. Munchee Samaga Gamata Sarana stands as a symbol of goodwill, it reminds Sri Lankans across the nation that Munchee is invested in their well-being and happiness and reiterates Munchee's commitment to always remain a trusted social and economic partner as well as a source of support, compassion and care.