---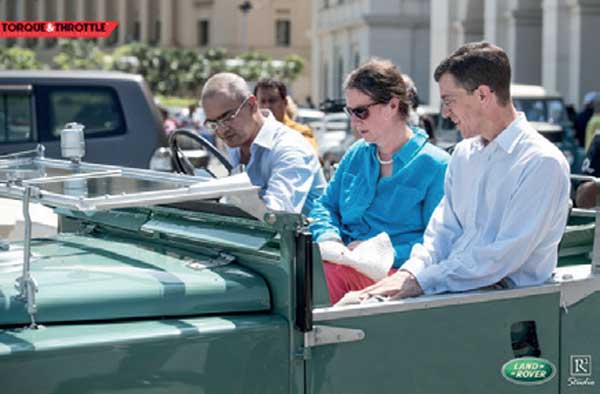 Land Rover together with The Classic Car Club of Ceylon conducted the 'British Car Day' on March 13th. The event commenced at 8am at the iconic and picturesque Galle Face Hotel and attracted close to 100 classic British automobiles.
The vehicles, which belong to well-known enthusiasts, were showcased at the venue before they embarked on a parade through the heart of Colombo Fort. The parade, which was a sight to behold, ended back at the Galle Face Hotel where all the members showcased their immaculate classic cars for the public to view. Land Rover made a mark on the event by having a vintage Series 1 as the lead vehicle, which the Guest of Honour, The British High Commissioner to Sri Lanka, James Dauris, was travelling in. Land Rover also displayed its latest range of high-end vehicles at the event ranging from the Range Rover Sport Hybrid, Discovery Sport, Discovery 4 and the everpopular Range Rover Evoque. Land Rover also conducted a unique tour of downtown Colombo hosted by Sir Ian Jennings on a double decker open top bus.
The tour took guests through the history and heritage of colonial fort with Sir Ian reliving his best memories and moments of his time in Sri Lanka. With a British Festival theme for the event, Children of all ages were entertained at a typical English fair in an area demarcated inside the hotel with game stalls hosting favourites such as Hoopla, Coconut Shy, Darts, Tin Can and of course unlimited Candy Floss and Popcorn.
The brilliant Jerome Speldewinde and his three-piece band entertained parents whilst they enjoyed a truly British brunch hosted by Land Rover and The Classic Car Club of Ceylon. The Great British Raffle was open to Land Rover owners & customers who purchased a ticket in aid of the Cerebral Palsy Foundation of Sri Lanka.
All proceeds from the raffle were donated to the foundation. The raffle winner received a return air ticket to London courtesy of Qatar Airways and a Goodwood Revival weekend pass courtesy of Land Rover. "Land Rover has always been a major part of the British motor industry. We are truly proud to be involved with an event such as British Car Day as it gives us the opportunity to showcase our most modern products, against the backdrop of the best cars Britain ever made," said Sheran Fernando – Managing Director, SML Frontier Automotive.