---

The art of creating something out of nothing, organizing interior spaces to look and feel above and beyond, and matching colours with moods and moments is not something for the fainthearted.
In fact many of the greatest names in the architectural and interior design spectrum spend countless hours and months if not years creating just one room. Perfectionism is commonplace amongst these master craftsmen and Sri Lanka as a nation has been blessed and recognized for some of the world's best. From the Bawa's to the Balmond's this little paradise island is dotted with spectacular works that tell many tales of their creators.

Among the modern generation of these artisans is Lalin Jinasena. Known at first as a hotelier, Lalin began his career in hospitality by managing two hotels belonging to his father's company, the Jinasena Group. However, his passion for design was prominent from an early age. Lalin's skills in both architectural and interior design have been sought after for many years. Since 2004 he has been handling private clients, and with the growing demand for his work both locally and globally decided to launch his own design company/studio "Lalin Design" in 2015.

Perhaps the best known landmark in Lalin's career is his own multi awarded Casa Colombo, a private boutique hotel with 12 designer suites, restaurants and bar housed within a grand 200-year-old mansion in Colombo. Lalin acquired the historical building in 2006 and restored it in only 8 months time.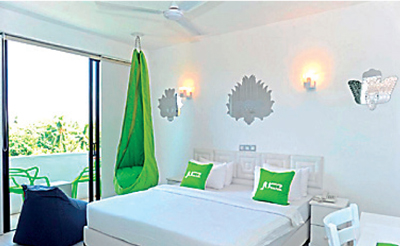 He also designed every piece of furniture and decor himself, solely using craftsmen and materials from Sri Lanka. Among some of the other great undertakings that are benchmarks around the country are the Casa Colombo Collection Mirissa, the Mahout Adventure Club, Michelle Therese Atelier Store, Oceana Apartments and Villas, the Odel Boulevard and Ladies Dressing Rooms, Park West Apartments, Juce Hotels and the Royal Lotus Hotel. Lalin has also designed homes, villas and apartments for some of the best known names in Colombo. Extending his potential outside of Sri Lanka, Lalin and his team are also currently working on projects in India and China.

Most people will look at our work and think it is expensive, but in truth it isn't. It is simply the use of intelligent design to create outstanding pieces of art. My style at Lalin Design is unique to say the very least.

In terms and architecture and interior design Sri Lanka still finds herself stuck in the Bawa generation. My dream was to always stand out and not get stuck in convention, the same way Bawa did in his time. We do not believe in replicating, and create from scratch. Success is evident in the many accolades my work has won", says Lalin.

Casa Colombo was voted "The Best Design Boutique Hotel in the World" in 2012 by the Boutique Hotel Awards, and also "Sri Lanka's Leading Hotel" in 2011 at the World Travel Awards, and won the 2011 Asia Pacific Hotel Award Prize for Best Interior Design. It was also awarded the Certificate of Excellence from Trip Advisor for 2011. Casa Colombo is a Conde Nast Hotlist Hotel and has been praised for its interior in publications such as Wallpaper, AD, Elle, Harper's Bazaar, and In Style.
Meanwhile Lalin's Casa Colombo Collection was awarded the Country Winner for Luxury Design Hotel at the World Luxury Hotel Awards 2015 2.
It was also named Asia's Best Classic Boutique Hotel at the Boutique Hotel Awards 2014, Asia's Leading Business Hotel at the World Travel Awards 2013, Best Small Hotel and Highly Commended Hotel Interior at the Asia Pacific Hotel Awards 2013. Casa Colombo Collection in Mirissa was also named Asia's Best Beach or Coastal Boutique Hotel and Asia's Leading Boutique Resort at the Boutique Hotel Awards 2015 and World Travel Awards 2015 respectively.

Lalin Design housed at 16, Flower Road, Colombo 7 is a design paradise for those looking for fresh design perspective whether it be for a dream home, modern office, distinct hotel, retail store or venue. For more information please contact 0114-501502 or visit their website www.lalindesign.com