---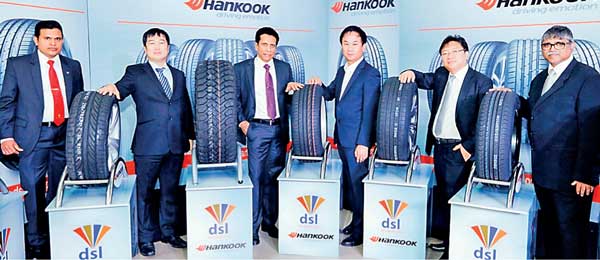 The world's seventh largest tire brand - Hankook, has proclaimed the official partnership with Douglas & Sons (Pvt) Ltd, and The Grand Launch of Hankook Tire in Sri Lanka was held at The Kingsbury, Colombo on 08th July.

This event was graced with the presence of the Vice President – Hankook Tires, Korea –Sun Jung Kim , Saroj Perera- Chairman – DSL Group of Companies. The officers of Hankook Tires Co. Ltd and Douglas & Sons (Pvt) Ltd too participated at the event.

With a history of more than 75 years, Hankook is the largest tire manufacturer in Korea with a 51 percent market share DSL has strengthen their market presence with world renowned Hankook. Hankook tire sales reached up to a significant level in Middle East, Africa and Asia Pacific and with their entrance in to Sri Lanka market, they will look to expand their presence in the region.

As reveled by the Regional Manager-Hankook India, Vinod Jathanna, Hankook Tire has had its outstanding technology and brand value recognised through their OE partnerships with the world's top car manufacturers. Hankook has solidified their position as a premium tyre brand by securing OE contracts for new car models made by prestige auto brands as Porsche, Mercedes-Benz, Audi, BMW and Volkswagen in the European market.
It will be a greater opportunity for the Sri Lanka's High-End and Middle class vehicle owners to replace their tyres with an OE recognised tire brand. The population of the Korean vehicles such as KIA Sorento, KIA Sportage, Hyundai Tucson, KIA Rio, Hyundai Elantra and Hyundai Santa-Fe has increased at a considerable rate as per the latest statistics. It will be a definite advantage for owners of Korean vehicles to use Korean tires for their vehicles. Further, Runflat tires will soon be available in Sri Lanka wich performing well in Europe.

The product range includes Hankook Dynapro , Hankook Ventus and Hankook Optimo in variety of tread patterns which are more suitable for diverse road conditions in Sri Lanka and these patterns were designed with extensive research & development which were individually done for each market segment. These patterns are already available with DSL in all fast
moving sizes.

Hankook Tires are made with much advanced technology with much concern on safety, Comfort, low noise etc.. The optimal Sipe Design Technology is incorporated for improved traction and comfort while driving and optimized shoulder grove pattern reduces the tire noise which is a major feature vehicle owners seek for. Hankook tires are also best in lower rolling resistance they are made with eco-friendly new silica compound application. DSL is proud to be the official distributor for such a quality tire which will cater to all types of tire requirements with wide range of Hankook Product.