---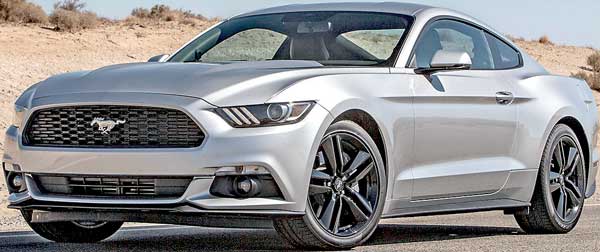 Automotive enthusiasts are in for a long-awaited treat, as American muscle cars are made available for purchase for the very first time at Cars@Duplication with online viewing exclusively available on Carmudi.lk. The dealership will introduce to Sri Lankan consumers six Ford Mustangs of a 1000 piece limited edition collection.
"We are very passionate when it comes to bringing down the most sophisticated and trendy vehicles and really pushing the envelope. In that sense the extension of our range into the American Muscle range is a bold and timely move since this is an untapped market for this type of vehicle. "However this has also been a landmark event for me personally having grown up with posters of the Ford Mustang on my wall like so many others.
It is an iconic brand and we are very proud to be one of the first to introduce it to the Sri Lankan market through our showroom and o n l i n e t h r o u g h C armu d i . l k , " C a r s @ D u p l i c a t i o n Managing Director,Rukshan Tissera stated.American Muscle cars are veritable icons of power and high performance and their availability in Sri Lanka is a truly historic achievement for the local automotive scene.However until 2015, they were produced solely in Left-hand drive (LHD) models to suit standard American regulations. But with the dedicated global following for these stunning vehicles, Ford last year decided to produce a 1,000 of its flagship Ford Mustangs in Right-hand Drive (RHD) for the first time in order to give fans of the brand the chance to have their own personal experience with the brand. The response at the time of production last year had been overwhelmingly positive with 9,300 Europeans from across the continent applying to reserve the first 500 RHD Mustangs alone. In that context it is a truly remarkable achievement that Cars@Duplication will be bringing six Ford Mustangs into the market.
The cars will come in two models – the Fastback Coupe model and a soft top convertible variation – with two possible engine sizes: a 5 litre V8 engine and a 2.3 litre Eco-boost engine.The Mustangs will also be offered in eight possible colours allowing buyers a high level of customization. While Sri Lanka's car collector circuit is home to some truly special Tuner models – typically Asian vehicles that are modified to individual preferences – and even some Exotic sports cars, the entry of the American muscle category is certainly a groundbreaking event. Meanwhile, commenting on the rationale behind Cars@Duplication's collaboration with Carmudi.lk,
in retailing the Ford Mustang, Tissera explained how his company's approach to technology and the online space is neatly aligned with Carmudi's own service offering. "Carmudi. lk has really done a lot to position itself ahead of the competition and we believe they have a big future ahead of them. They have a simple, easy-to-use interface that is reliable and the search optimization features they have built really makes for a pleasant and unique experience. "We too have been working hard to incorporate technology, social media and online marketing into our business model in a meaningful way and in that sense we feel that Carmudi.lk is a platform that we can really integrate well with," he noted. For more information visit the Cars@Duplicationfacebook page or visit www.carmudi.lk