---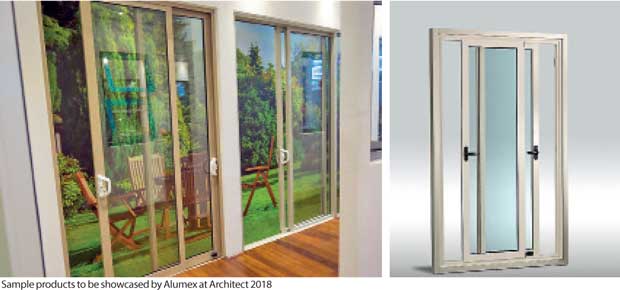 Alumex PLC, Sri Lanka's premier integrated manufacturer of aluminium extrusions, is gearing up to showcase its vast catalogue of products, including the very latest Alumex proprietary doors, windows and facades, at the upcoming Architect 2018 Member's Work and Trade Exhibition, taking place at the BMICH from February 22-25.

Serving as strategic sponsor to the event for the nineth consecutive year, Alumex anticipates substantially increased demand for aluminium-extruded products within in the domestic market and to that end, aims to utilize its platform at Architect 2018 to improve awareness on the remarkably versatile applications of its product range.

For over three decades, Alumex has consistently driven quality and innovation in the Sri Lankan market and given the unprecedented development our nation has experienced over the recent past, the demand for reliable, long-lasting materials is only going to rise.

Its goal with this year's exhibition is therefore to showcase the breadth of its catalogue including its most recent innovations such as the insulated double-glazed curtain walls, lift and slide windows/doors and many products for various household and industrial applications such as solar, furniture and many light engineering products.

These types of products have helped to push the envelope in terms of design, by offering durable materials in a vibrant selection of colours and finishes, offering the perfect balance between form and function. Alumex is confident of an enthusiastic reception at Architect 2018.
Organised by the Sri Lanka Institute of Architects, the exhibition is considered to be the largest and most influential event in the field of construction, architecture and design, drawing widespread participation from over 280 leading firms in the field and attendance in excess of 65,000 visitors.

Alumex is a fully-integrated manufacturer of aluminium extruded profiles and proprietary systems in Sri Lanka since 1986. The company develops and manufactures aluminium extrusions for an extensive range of applications for fabrication of doors, windows, shop fronts, curtain walls and other specialized tested commercial aluminium systems.