---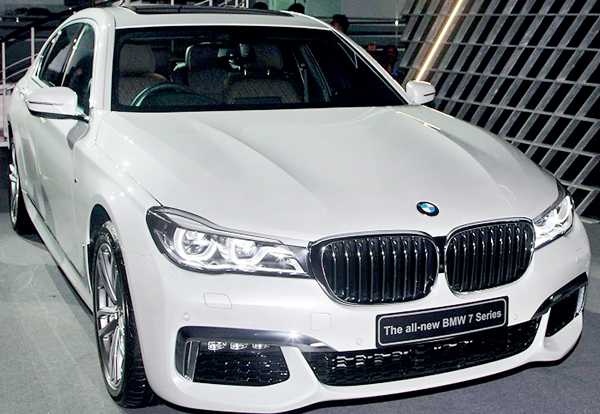 The All-New BMW 7 Series 3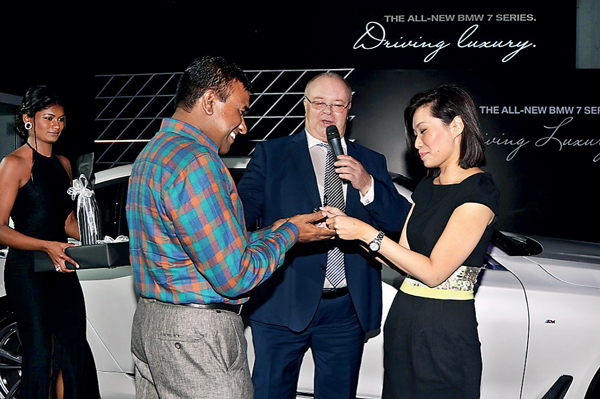 Upul Mudalige is presented the key of the first All New BMW 7 series from Area Manager of BMW Sue Ann Poon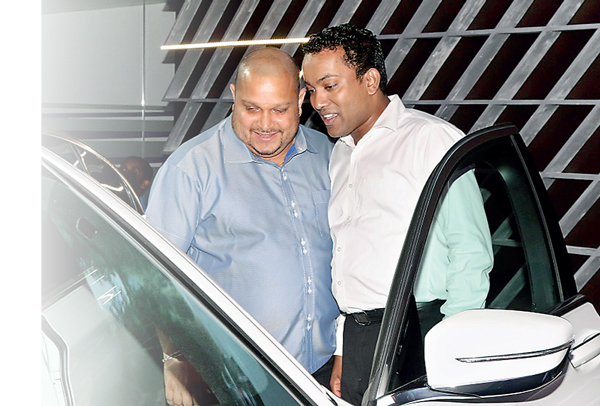 Singer Bathiya Jayakody takes a closer look at the All-New BMW 7 Series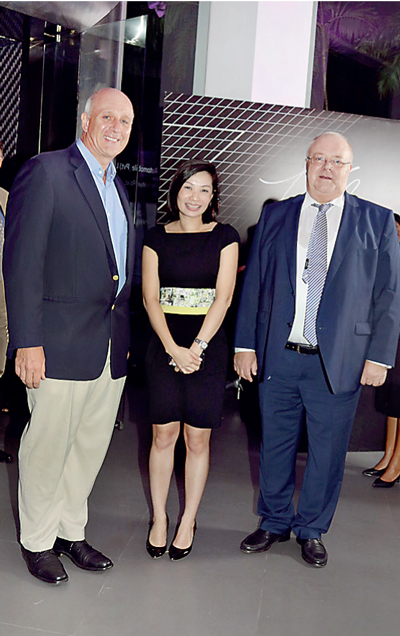 L to R - German Ambassador Dr Jeurgen Morhard, Area Manager BMW Sue Ann Poon and Chairman and Managing Director of Prestige Automobile Heinz Reuter
From the revolutionary iDrive operating system, to the electronic speedometer, Park Distance Control and brand new technology including carbon core to reduce overall weight by upto 130 kgs, a full suite of innovations entailing Touch Command, Gesture Control, sky lounge with panorama glass roof and laser lights that increase range up to 600 meters, the all-new BMW 7 Series made its entry into Sri Lanka recently epitomizing the axiom of 'Driving luxury'.

The Most Innovative Car in its Class at the World Luxury Car Awards 2016, the All-new 7 series BMW, builds on BMW's 100 year legacy and its next 100 year vision, 'The best way to predict the future is to create it," with this new milestone in driving luxury, combining the best in comfort, style and leading edge innovation.

Unveiling the vehicle in the presence of Chief Guest German Ambassador Dr Jurgen Morhard, Chairman/Managing Director of Prestige Automobile Heinz Reuter declared that, "This all-new BMW 7 series embodies our quest for modern mobility, highest quality and absolute precision. It is truly a masterpiece from BMW and probably the best car BMW has ever built." Expanding on the full range of ground breaking innovations that BMW has introduced and thus set benchmarks for the cars of today, Prestige Automobile (Pvt) Limited, the authorized importer for BMW for over two decades unveiled two variants of the all new BMW 7 series.

The BMW 740Li is powered by a six-cylinder inline engine with the legendary BMW twin power turbo technology which has not only improved efficiency of the engine but has a more spontaneous response as well. It produces an output of 326 hp, an acceleration from 0-100 km in 5.6 seconds and average fuel consumption improvement of 16 percent up to 6.6 litres per 100 kms. CO2 emissions have also improved by 16 percent to 154g per km.