---
Asian International Academy (AIA), an institute focusing on innovation, equality and contemporary study programmes, recently announced the launch of the world renowned U.S. Certified Public Accountants (CPA) preparation course for Sri Lankan professionals.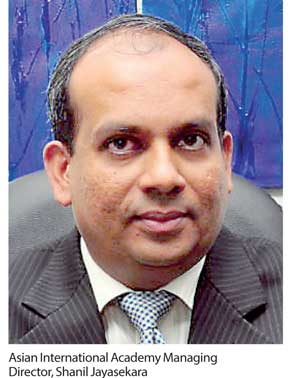 This will be the first time U.S. CPA preparation course is being introduced into the country. All preferred candidates would need to hold a four year accounting degree in order to be eligible to follow this course at AIA. The CPA qualification will allow Sri Lankan professionals to pursue employment opportunities in the USA and globally.

AIA has come forward with the realization that a qualification such as CPA for professional accountants in Sri Lanka will lead to many gateways and career prospects worldwide and encourage professionals to pursue fulfilling careers abroad as a result and contribute to Sri Lankan foreign exchange earnings.

Disclosing about the steps AIA had taken to introduce this certification into Sri Lanka, Asian International Academy Managing Director, Shanil Jayasekara stated, "An advantage here is that the students would only need to complete four subjects and obtain their CPA license with qualified work experience. Then they will have the option of becoming Chartered Global Management Accountant (CGMA) by completing another case study exam. Usually, a student who goes through the CIMA course would need to finish up all relevant exams and then apply for the Associate Membership which would then lead on to their CGMA. The CPA course can be completed in as little as a year or it is simply up to the student to take it up in their own time".

The programme, which is offered in partnership with Becker Professional Education – the largest U.S. CPA review course provider, includes four subjects related to auditing and attestation, business environments, financial accounting and reporting and regulations. It is available in study format where the student can follow the course in a convenient and flexible manner.

Professionals who opt to go through the 4-programme course would need to complete it within 18 months. The CPA Exam is a computer-based test comprising of four segments administered by NASBA & Prometric and each exam would take 4 hours to complete. Candidates will need to face their exams in the USA or Guam. The exam has been designed to incorporate multiple-choice questions, task-based simulations and written communications tasks.

The entire cost for the course at AIA has been priced at US$ 2000 and AIA would offer the students with the complete set of Becker CPA Review Program, which includes textbooks, online expert lectures, practice questions and mock exams as well as class-room based lectures from qualified lecturers in their relevant fields of study in Sri Lanka.

When asked why CPA was being made relevant for Sri Lanka at a time like this, Jayasekara said, "From our point of view, we wanted to look at quality education especially with emphasis on the global outlook towards it. If we take a moment and take notice, most reputed companies are U.S. founded and they seek out professionals with the most appropriate of certifications when it comes to something like Accounting among others. In that context, this will give Sri Lankan accountants with a well-recognized qualification and an opportunity to pursue a career in the USA. We want to help them with the entire process including assisting them with their license."